Check out some available loans that are similar to this one!
Peru

Agriculture

Funding via Edpyme Alternativa

Peru

Agriculture

Funding via Edpyme Alternativa

Peru

Agriculture

Funding via Edpyme Alternativa
Trabajando Unidas Group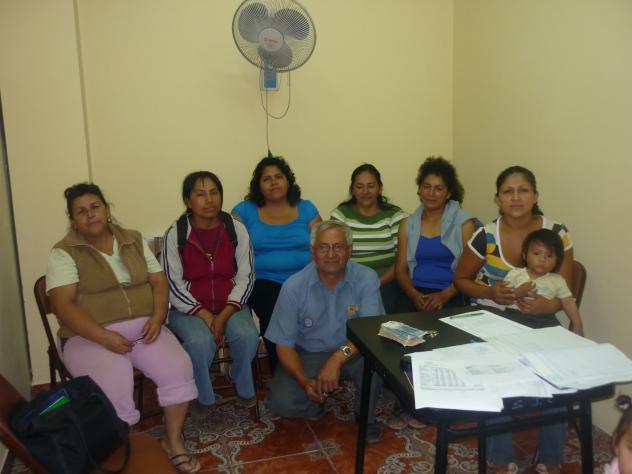 WORKING TOGETHER

Lucia, 49, is a member of the "TRABAJANDO UNIDAS" (Working Together) communal bank which has been in existence for two years. Lucia has been President for the last 7 months. The seven members currently in the group chose the bank name because the group must have unity and work. The communal bank has been collaborating with Edaprospo-Prosperidad for two years.

Lucia used to belong to a different communal bank but she dropped out of it and through a friend joined Trabajando Unidas. Lucia is at the far left of the photo wearing a light yellow polo shirt and cream colored vest; her pants are light lilac.

Lucia has 4 children; two are independent and two still depend on her. Lucia started making food and marmalade to sell and she knitted woolens sweaters in order to support the two children that still live with her as well as to build and furnish her house.

She'd like to have capital to increase her production of food, marmalade and sweaters.
Translated from Spanish
View original language description ↓
TRABAJANDO UNIDAS

Lucia tiene 49 años de edad pertenece ala Alcancía comunal "TRABAJANDO UNIDAS" que ya tiene 2 años de estar formada la señora lucia tiene el cargo de presidenta hace 7 meces y entre los 7 integrantes q conforman este grupo actualmente decidieron ponerle el nombre de Trabajando Unidas a su Alcancía Comunal por que en el grupo tiene que haber mucha unión y mucho trabajo.la alcancía comunal ya tiene 2 años trabajando con Edaprospo-Prosperidad Lucia pertenecía a otro grupo de Alcancía Comunal el cual lo dejo y por medio de una amiga se unió al grupo Trabajando unidas Lucia apararece en al lado izquierdo de la foto con un polo de color amarillo claro y un chaleco de color crema y su pantalon de color lila claro.
Lucia tiene 4 hijos los cuales 2 son dependientes y 2 son independientes Lucia comenzó a preparar y vender comidas, mermeladas y tanbien hacia tejidos de lana "CHOMPAS" con la finalidad de poder mantener a sus 2 hijos que aun viven con ella y tanbien la de levantar su casa y equiparla con muebles.
La señora quisiera un capital para poder incrementar su cantidad de producción de "Comida, Mermeladas y Chompas"


Additional Information
About EDAPROSPO
EDAPROSPO seeks to use micro-credit to foster productive commercial activity for the sake of economic and social development within vulnerable urban and rural sectors traditionally neglected by commercial banks. By offering innovative products such as technical education loans and microfinance groups for young people, EDAPROSPO helps disadvantaged Peruvians lift themselves out of poverty.
This is a Group Loan
In a group loan, each member of the group receives an individual loan but is part of a larger group of individuals. The group is there to provide support to the members and to provide a system of peer pressure, but groups may or may not be formally bound by a group guarantee. In cases where there is a group guarantee, members of the group are responsible for paying back the loans of their fellow group members in the case of delinquency or default.
Kiva's Field Partners typically feature one borrower from a group. The loan description, sector, and other attributes for a group loan profile are determined by the featured borrower's loan. The other members of the group are not required to use their loans for the same purpose.
Success!! The loan was 100% repaid
A portion of Trabajando Unidas Group's $2,100 loan helped a member to increase sweater and food production.
3 months (Additional Information)
At end of term
Nov 25, 2010
Dec 6, 2010
Covered

Ended:

Jan 15, 2011