Check out some available loans that are similar to this one!
Ecuador

Clothing

Funding via Fundacion Alternativa

Ecuador

Retail

Funding via VisionFund Ecuador

Ecuador

Retail

Funding via VisionFund Ecuador
Las Doras (Portoviejo) Group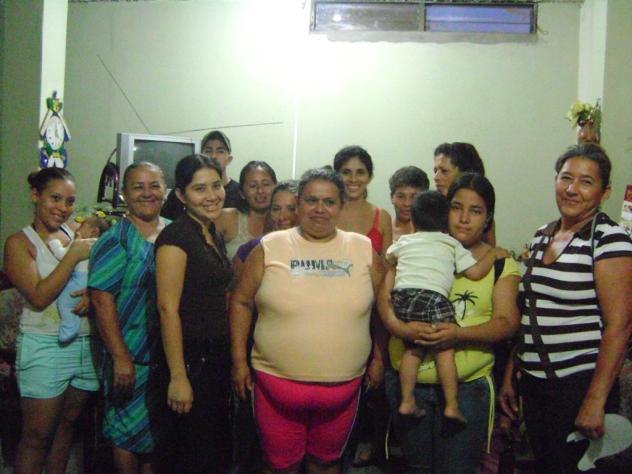 The Las Doras loan group meets every fortnight in the Avenida del Ejército street in the city of Portoviejo, capital of the Manabi province which has been known for many years as the city of the Tamarind Kings. The group is very close and its members are very friendly, even though it is only in its first cycle. The members work in different activities (retail, sales, manufacture and services).

One of them is Marisol P., president of the loan group. She is 40 years old, divorced with three children, and she is currently in a relationship. She was born in Junín but at age 11 she moved to Portoviejo. She teaches tailoring and is studying at the University of Guayaquil extension.

She owns a business which provides telephone booths and computers with internet access. She works every day from 8am to 8pm. Her sons help her, and she pays them a salary that supports them with their studies. The business is based in her house, which makes it possible for her to also do the housework and teach, as she also gives classes supervising homework. She says her business is doing well because it is the only one in the field.

The loan will be used to build a suitable room where to teach her classes. This is her first cycle with the bank and she is very pleased; she likes the ease of getting credit. Her goals are to continue in business and to keep on teaching for the benefit of her community.
Translated from Spanish
View original language description ↓
En la calle Avenida del Ejército de la ciudad de Portoviejo, capital manabita conocida desde hace muchos años como la ciudad de los Reales Tamarindos, cada 15 días se reúne el Banco Comunal las Doras.
Este es un grupo de personas que ha pesar de que este es su primer ciclo es muy unido y sus socias muy amistosas. Ellas se dedican a diferentes actividades, (comercio, ventas, producción y servicios,).

Aquí encontramos a la señora Marisol P., es la presidenta del Banco Comunal, ella tiene 40 años, esta divorciada y tuvo 3 hijos en la actualidad mantiene una relación de unión libre. Nació en Junín pero a los 11 años se vino a vivir a Portoviejo, es maestra artesana en corte y confección y esta estudiando párvulo en la extensión de la Universidad de Guayaquil.

Tiene un negocio de Cabinas telefónicas y computadores con servicio de internet. Negocio en el que trabaja todos los días de 8am a 20h00, aquí le ayudan sus hijos a los cuales les paga un sueldo para que ellos tengan para sus estudios. El negocio lo tiene en su casa por lo cual se le facilita sus labores de ama de casa y de maestra ya que también da clases de tareas dirigidas. Dice que le va muy bien en su negocio ya que es el único en el sector.

Este crédito lo va emplear en construir un lugar adecuado para impartir sus clases. Es su primer ciclo en el Banco y esta muy contenta, le ha gustado por la facilidad para conseguir el crédito.

Sus metas son seguir en su negocio y seguir impartiendo sus clases para bienestar de su comunidad.



Additional Information
This is a Group Loan
In a group loan, each member of the group receives an individual loan but is part of a larger group of individuals. The group is there to provide support to the members and to provide a system of peer pressure, but groups may or may not be formally bound by a group guarantee. In cases where there is a group guarantee, members of the group are responsible for paying back the loans of their fellow group members in the case of delinquency or default.
Kiva's Field Partners typically feature one borrower from a group. The loan description, sector, and other attributes for a group loan profile are determined by the featured borrower's loan. The other members of the group are not required to use their loans for the same purpose.
Success!! The loan was 100% repaid
A portion of Las Doras (Portoviejo) Group's $4,400 loan helped a member build a classroom.
6 months (Additional Information)
Monthly
Sep 6, 2010
Sep 14, 2010
N/A

Ended:

Feb 15, 2011