Check out some available loans that are similar to this one!
Paraguay

Food

Funding via Fundación Paraguaya

Paraguay

Food

Funding via Fundación Paraguaya

Paraguay

Services

Funding via Fundación Paraguaya
Mujeres Activas De Candia Loma Group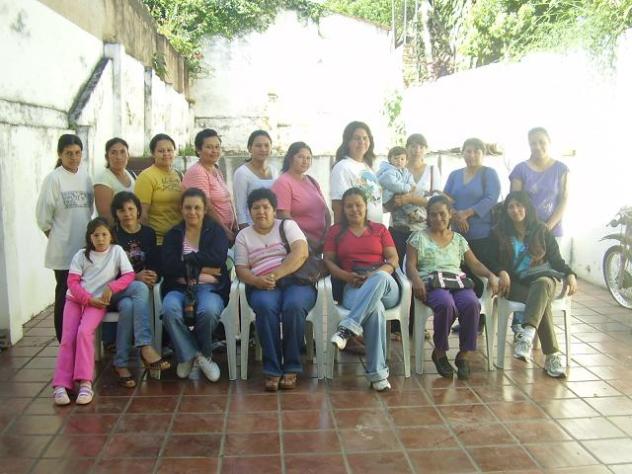 The women of this existing committee are from the Candia Loma Assembly in the city of Caacupé, which is 6km from the Caacupé regional office. With the financial support they receive from Fundación Paraguaya, the members feel secure working in their own businesses because they are able to plan ahead and provide for their families.



Sra. Petrona manages a store where she sells all types of items needed for the home. She is a hardworking woman who gets ahead on behalf of her family in the best way possible. Her husband sells handicrafts, but since he does not earn a steady income, she tries to help in any way she can. Petrona has a few personal expenses related to her children and she also wants to restock her store with merchandise that is low in supply. Therefore, she is requesting a loan to buy baked goods, canned goods, sausages, noodles, rice, and flour.



As of now, all of the members are participating in their eighth loan cycle in the Committee of Women Entrepreneurs Program with Fundación Paraguaya, which establishes daily improvement projects and promotes the development of individuals with limited resources.
Translated from Spanish
View original language description ↓
Las mujeres del presente comité son de la Compañía Candia Loma de la cuidad de Caacupé distante a 6 km de la oficina regional Caacupé.
Con el apoyo financiero que la fundación Paraguaya les brinda hoy por hoy, las integrantes se sienten seguras trabajando en sus propios negocios, lo que comercialmente realizan les ayudan al sustento familiar, para sus respectivos negocios necesitan de una previa y buena planificación.
El negocio de la señora Petrona es una despensa que cuenta con todos los artículos necesarios para la casa.
Ella es una señora muy trabajadora que lleva adelante a su familia de la mejor manera posible y ayuda de cualquier modo a su marido quien no posee un ingreso fijo ya que se dedica a venta artesanía.
Ella tiene algunos gastos personales con sus hijos y también debe volver a cargar su despensa con las mercaderías que fueron vendidas por ello solicita el préstamo para la compra de panificados, enlatados, embutidos, fideos, arroz, harina.

A esta fecha todas las integrantes operan con la fundación paraguaya en el ciclo número 8 del programa comité de mujeres emprendedoras, emprendiendo cada día proyectos de mejoramiento y desarrollo para personas de escasos recursos.
Additional Information
About Fundación Paraguaya
Fundación Paraguaya is a financially self-sustaining social enterprise that promotes entrepreneurship in urban and rural areas through microfinance, education programs, and more. Its focus on agriculture has helped many farmers boost their crop yields. And a number of other borrowers have taken out loans to start and grow social businesses that have helped deliver eyeglasses, medicines and other helpful services in their local communities.
This is a Group Loan
In a group loan, each member of the group receives an individual loan but is part of a larger group of individuals. The group is there to provide support to the members and to provide a system of peer pressure, but groups may or may not be formally bound by a group guarantee. In cases where there is a group guarantee, members of the group are responsible for paying back the loans of their fellow group members in the case of delinquency or default.
Kiva's Field Partners typically feature one borrower from a group. The loan description, sector, and other attributes for a group loan profile are determined by the featured borrower's loan. The other members of the group are not required to use their loans for the same purpose.
Success!! The loan was 100% repaid
A portion of Mujeres Activas De Candia Loma Group's $3,425 loan helped a member purchase baked goods, canned goods, sausages, noodles, rice, and flour.
6 months (Additional Information)
Monthly
Apr 19, 2010
May 20, 2010
Covered

Ended:

Sep 15, 2010