Check out some available loans that are similar to this one!
Miriam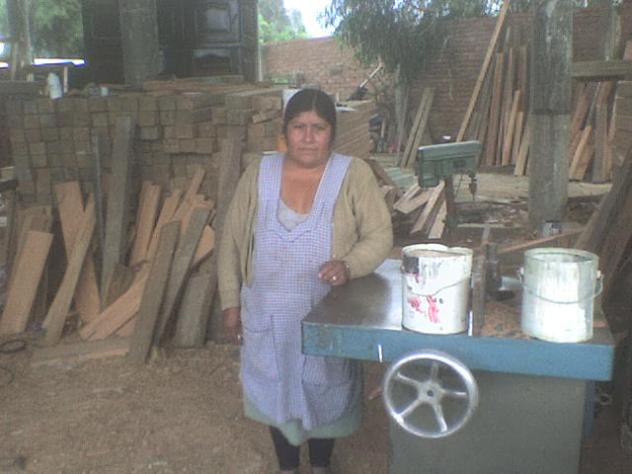 Miriam is married and has school-aged children. She has a carpentry shop where she makes wooden furniture. She has about 15 years of experience with this business. She and her husband get up at dawn to do their work, and Miriam also has to prepare food for when the children come home from school.

They started by making products for other people, who were the ones who sold the furniture. In time they were able to buy machinery and produce more furniture so they could go into business for themselves. Miriam's husband makes the furniture; she helps him and is also in charge of selling the items wholesale.

With the loan money she will buy wood to build furniture since she has a large order. Miriam wants to have a well-known furniture store and make new models to please her customers. She is very grateful to Emprender and Kiva for the confidence placed in her with the granting of this loan.
LA SRA. MIRIAM ESTA CASADA TIENE HIJOS QUE SE ENCUENTRAN EN EDAD ESCOLAR,LA SRA. MIRIAM TIENE UNA CARPINTERIA DOND. REALIZAN MUEBLES D. MADERA, ESTE NEGOCIO TIENE APROXIMADAMENTE 15 AÑO D. EXPERIENCIA QUIEN ELLA JUNTAMENTE CON SU ESPOSO SE LEVANTAN DESD. LA MADRUGADA PARA PODER TRABAJAR EN ESTO, PARALELO A ESTE TRABAJO ELLA DEBE PREPARAR LA COMIDA PARA CUANDO LOS HIJOS RETORNEN DEL COLEGIO. ELLOS COMENZARON REALIZANDO TRABAJOS PARA PERSONAS EXTERNAS QUIENES ERAN LOS QUE LAS VENDIAN, CON EL TIEMPO LLEGARON A COMPRAR MAQUINARIA Y LOGRAR PRODUCIR MAS MUEBLES PARA ELLOS COMERCIALIZARLOS, SU ESPOSO REALIZA LOS MUEBLES ELLA LE AYUDA Y TAMBIEN SE ENCARGA D. VENDERLOS AL POR MAYOR. CON EL DINERO DEL CREDITO COMPRARA MADERA PARA REALIZAR MUEBLES YA QUE TIENE UN PEDIDO GRAND., EL DESEO D. LA SRA. MIRIAM ES LA D. TENER UNA MUEBLERIA RECONOCIDA Y RELIZAR MODELOS NOVEDOSOS PARA COMPLACER A SUS CLIENTES, ESTA MUY AGARDECIDA CON EMPRENDER Y KIVA POR LA CONFIANZA BRINDADA EN LA OTORGACION DEL CREDITO.

Additional Information
About Emprender
Emprender has been working in Bolivia since 1999. It is dedicated to becoming a key tool in the development of its clients and the improvement of their quality of life. Operating in three of Bolivia's major cities – La Paz, Cochabamba, and Santa Cruz – Emprender offers both urban and rural clients the opportunity to obtain financial products tailored to fit their needs and businesses. These products include housing loans, salary loans, "opportunity" (short-term) loans, and higher education loans. To better the quality of life for its clients and non-clients through non-financial services, Emprender offers free medical consultations and health classes given by trained doctors.
Success!! The loan was 100% repaid
A loan of $1,000 helped Miriam purchasing wood.
15 months (Additional Information)
Monthly
Mar 27, 2010
Jun 1, 2010
Possible

Ended:

May 15, 2011