Check out some available loans that are similar to this one!
Ecuador

Retail

Funding via Cooperativa de Ahorro y Credito Mujeres Unidas (CACMU)

Ecuador

Retail

Funding via Cooperativa de Ahorro y Credito Mujeres Unidas (CACMU)

Ecuador

Food

Funding via Fundación ESPOIR
Mayra Mercedes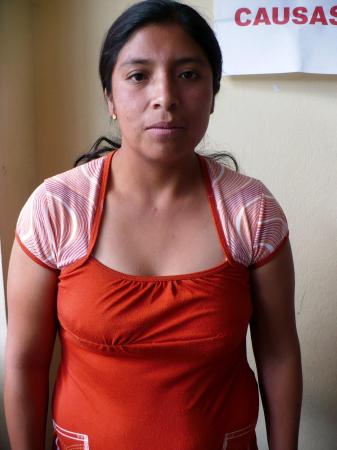 Mayra Mercedes is a partner of the San Pablo Community Bank located in the city of Cuenca, in the Rumilona community, which is located 10 minutes from the city center. This locality characterizes itself for the fact that its population is dedicated to agriculture and cattle ranching. The young population prefers to migrate to bigger cities in the country and abroad in search for better opportunities for them and their families.

Mayra is 27 years old and is married. During this marriage she conceived two children who are now 8 and 4 years old. The oldest goes to a school in the city. Her husband is a bricklayer. They do not own a house and live with her brother.

This is her fourth cycle working with loans from the community bank, due to her mother's incentive. She raises chickens, guinea pigs and also dedicates herself to agriculture by sowing vegetables. She also has time to attend to the general store she has had for two years. Her working hours are from 6am to 10pm Sunday to Sunday.

With the new loan she plans to purchase rice, sugar, cooking oil, salt, soap and other provisions to diversify her inventory.

Her dream is to one day own her own house.
Mayra S. es socia del Banco Comunal San Pablo ubicado en la ciudad de Cuenca en la comunidad de Rumiloma a unos 10 minutos a las afueras de la urbe, esta localidad se caracteriza porque su población se dedica a la agricultura y ganadería mientras que los jóvenes prefieren migrar a ciudades más grandes dentro del país o fuera de él en busca de mejores oportunidades para salir adelante junto a sus familias.

Mayra tiene 27 años de edad, se encuentra casada y como fruto de su unión concibió dos hijos quienes se encuentran de 8 y 4 años, el mayor estudia en una escuela de la ciudad, su esposo trabaja como albañil, no tienen casa propia por lo que viven en casa de su hermano.

Este es su cuarto ciclo trabajando con préstamos de su banco comunal incentivada por su mamá, ella se dedica a la cría de pollos, cuyes, también a la agricultura siembra verduras y le queda tiempo para atender su tienda de víveres que tiene hace dos años y su horario de atención es de 6 a.m. hasta las 10 p.m. de domingo a domingo. Con el nuevo crédito que realiza va a comprar arroz, azúcar, aceite, sal, jabón, y otros víveres para surtir más su tienda.

Tiene como sueño llegar a tener su casa propia.

Success!! The loan was 100% repaid
A loan of $775 helped Mayra Mercedes purchase of rice, sugar, cooking oil, salt, soap and others.
8 months (Additional Information)
Monthly
Mar 9, 2010
Mar 29, 2010
N/A

Ended:

Oct 15, 2010