Check out some available loans that are similar to this one!
Kikoni Bakyara Tweyambe Group, Ntungamo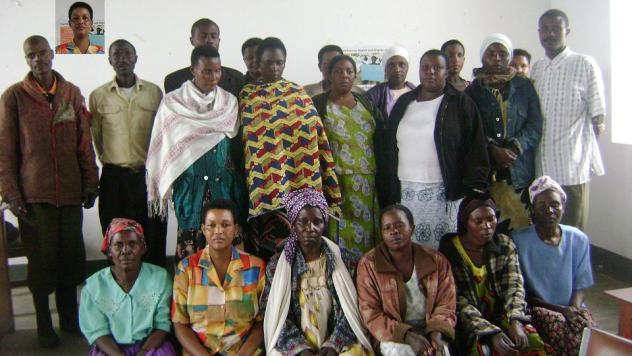 K. Mauda, shown at the top left in the small photo, also appears in the group photo as its leader.

With a sense of determination to see that all her children attain an education before she gets to 55 years old, evergreen 40-year-old Mauda is an exemplary woman. She works hard on a daily basis to feed her children and buy them all the essentials they need for school, notwithstanding her modest business.

Mauda's business operating area can be found in the premises of Ntungamo teachers college in western Uganda. She principally runs a retail shop business which, according to her admission, makes her 30,000/= a week and even more in the course of a month.

Mauda's main challenge has been a lack of enough capital to expand and consolidate her business. She has been doing her business's trivial round for the last thirteen years and she figures her business location has played into her hands for the most part.

Mauda's future plans are to expand her business into a roaring one once she obtains a loan.
Additional Information
This is a Group Loan
In a group loan, each member of the group receives an individual loan but is part of a larger group of individuals. The group is there to provide support to the members and to provide a system of peer pressure, but groups may or may not be formally bound by a group guarantee. In cases where there is a group guarantee, members of the group are responsible for paying back the loans of their fellow group members in the case of delinquency or default.
Kiva's Field Partners typically feature one borrower from a group. The loan description, sector, and other attributes for a group loan profile are determined by the featured borrower's loan. The other members of the group are not required to use their loans for the same purpose.
Success!! The loan was 100% repaid
A portion of Kikoni Bakyara Tweyambe Group, Ntungamo's $5,050 loan helped a member to buy more merchandise for her retail shop.
6 months (Additional Information)
Monthly
Feb 26, 2010
Mar 24, 2010
Possible

Ended:

Jul 20, 2010