Check out other loans that are currently fundraising!
Uganda

Agriculture

Funding via UGAFODE Microfinance Limited

Kyrgyzstan

Agriculture

Funding via Bai Tushum Bank CJSC

Colombia

Retail

Funding via Interactuar
Benso Group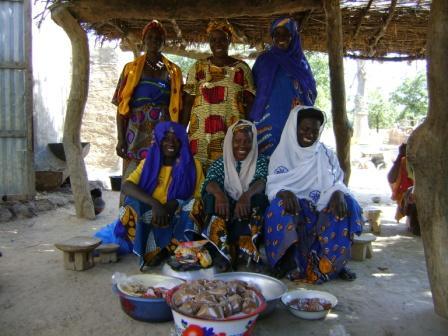 The members of the group Benso are married women averaging 41 years of age and 5 children each.  With their husband and children, the women live in large traditional families and reside in the village of Wobougou, prefecture of Dioïla, region of Koulikoro, Republic of Mali.  They know one another by ties of community and kinship. 

These women joined the micro-finance institution Soro Yiriwaso with the goal of making their lucrative businesses sustainable and are now on their second loan.  The preceding one was repaid.

With this new loan, the group members intend to buy a large quantity of condiments (fresh, canned, dried, etc.) at the Dioïla market and to resell in town and in the area to customers composed of women and men. 

The group members envision realizing a monthly profit of 25,000 francs CFA per person.  The profits are partly reinvested in the business and partly for covering day-to-day family expenses. 

Translated from French
View original language description ↓
Les membres du groupe Benso sont des femmes mariées ayant une moyenne d'âge de 41 ans et 5 enfants. Avec leur mari et enfants elles vivent dans des grandes familles traditionnelles et résident dans le village de Wobougou, préfecture de Dioïla, Région de Koulikoro, République du Mali.
Elles se sont connues par des liens de voisinage et de parentés.
Ces femmes ont intégré l'institution de microfinance Soro Yiriwaso dans le but de pérenniser leurs activités lucratives. Elles sont à leur deuxième prêt et le prêt précédent a été bien remboursé.
Avec ce nouveau prêt elles comptent acheter, une grande quantité de condiments alimentaires (frais, en conserve, séchés etc.) au marché de Dioïla et revendent au village et environnants à une clientèle composée de femmes et d'hommes.
Elles envisagent réaliser un bénéfice mensuel de 25.000FCFA par personne. Les bénéfices sont d'une part réinvestis dans l'activité et d'autre part dans les dépenses quotidiennes de la famille.

Additional Information
Important Information
Soro Yiriwaso is a microfinance institution that works primarily in rural and semi-urban areas of Mali to provide underprivileged communities with access to financial services.The organization facilitates access for disadvantaged clients, particularly women, to new resources and services, fostering solidarity and cooperation among its clients. Kiva lenders' funds will enable Soro Yiriwaso to expand its outreach and target even more underserved Malians involved in business and agriculture.
This is a Group Loan
In a group loan, each member of the group receives an individual loan but is part of a larger group of individuals. The group is there to provide support to the members and to provide a system of peer pressure, but groups may or may not be formally bound by a group guarantee. In cases where there is a group guarantee, members of the group are responsible for paying back the loans of their fellow group members in the case of delinquency or default.
Kiva's Field Partners typically feature one borrower from a group. The loan description, sector, and other attributes for a group loan profile are determined by the featured borrower's loan. The other members of the group are not required to use their loans for the same purpose.
Success!! The loan was 100% repaid
A portion of Benso Group's $675 loan helped a member buying kitchen condiments.
6 months (Additional Information)
Monthly
Dec 8, 2009
Dec 14, 2009
Covered

Ended:

May 15, 2010