Check out some available loans that are similar to this one!
Sierra Leone

Food

Funding via Association for Rural Development (ARD)

Sierra Leone

Food

Funding via Association for Rural Development (ARD)

Sierra Leone

Food

Funding via Association for Rural Development (ARD)
Idrissa A.'s Group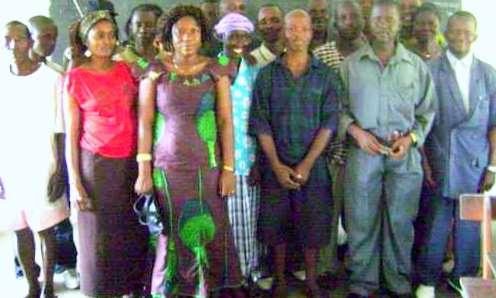 The members of this group are all teachers at a secondary school in Makeni. The school was built in 1989 by a Muslim leader, with a body of religious and businesswomen to help educate the children of Makeni city and the surrounding villages. This school (a junior secondary school) has a total of 38 staff and 500 pupils. It is one of the most advanced secondary schools in Makeni city. Over the years, the school has produced teachers, doctors, lawyers, accountants, ministers and so on.



Teachers are one of the poorest paid workers in Sierra Leone. Because of this, many of them find alternative means of making a living. Some engage in business or agriculture while others organize extra classes for pupils. These teachers are therefore seeking a loan in order to embark on meaningful projects. They will gradually repay the loan out of their monthly salaries.



Idrissa A. M. is a senior teacher at the school. He is 50 years old and was born in Makeni city, in northern Sierra Leone. Mr. M. has been a teacher for over 29 years now. He is married with four children, all of whom are at university. He will use this loan to pay the second semester college fees for two of his children in N'Jala University College.
Additional Information
About Salone Microfinance Trust (SMT)
Salone Microfinance Trust (SMT) is Kiva's oldest field partner in Sierra Leone. SMT began operations in 2002 as a microcredit program of the NGO Child Fund Sierra Leone under a USAID program to assist the reintegration of ex combatants back into their communities. Today, SMT offers group, agricultural, individual and salary loans to micro-entrepreneurs through six branches and one sub-branch in rural, urban, and peri-urban areas. By providing small loans and other financial services, SMT empowers poor clients to generate more income to help their families, improve their wellbeing, and create a more vibrant private small-business sector in Sierra Leone.
This is a Group Loan
In a group loan, each member of the group receives an individual loan but is part of a larger group of individuals. The group is there to provide support to the members and to provide a system of peer pressure, but groups may or may not be formally bound by a group guarantee. In cases where there is a group guarantee, members of the group are responsible for paying back the loans of their fellow group members in the case of delinquency or default.
Kiva's Field Partners typically feature one borrower from a group. The loan description, sector, and other attributes for a group loan profile are determined by the featured borrower's loan. The other members of the group are not required to use their loans for the same purpose.
Success!! The loan was 100% repaid
A portion of Idrissa A.'s Group's $4,525 loan helped a member to pay his children's college fees.
8 months (Additional Information)
Monthly
Jul 8, 2009
Jul 15, 2009
Covered

Ended:

Feb 15, 2010