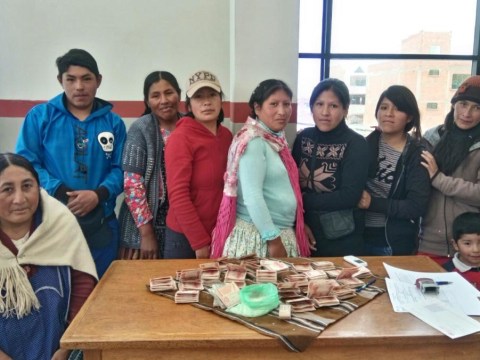 100%
funded
Total loan: $4,625
Ilución Y Esperanza Group
El Alto, La Paz Department, Bolivia / Food
---
Ilución Y Esperanza Group's loan finished fundraising,
but these similar borrowers just need a little more help to reach their goals!
---
A loan helped to buy fruits at wholesale.
---
Ilución Y Esperanza Group's story
The communal bank "Ilución Y Esperanza" will begin its first cycle with Pro Mujer, as a part of the German Busch Regional Office. It is made up of eight members and is directed by a governing board with Ms. Vicenta as President. The businesses that the members of the communal bank are developing are very diverse, and include: selling fabrics, fruit, quilts, tostados, curtains, blankets, leggings, and transportation services. The loan will benefit the group of small business owners that Vicenta is a part of. She says that this is the first time she has worked with Pro Mujer, which she joined by invitation from a promoter who is part of the institution. Currently she has a business selling fruit. She says a friend learned this business six years ago. Her current loan will be used to increase her capital (buy fruit at wholesale), which she will acquire from the wholesale vendors in the city of La Paz and later sell at her store. This type of work allows her to generate resources to support her family economically, since she is married and has two children. When asked what she likes about Pro Mujer, she responded that she likes the training that the institution offers.