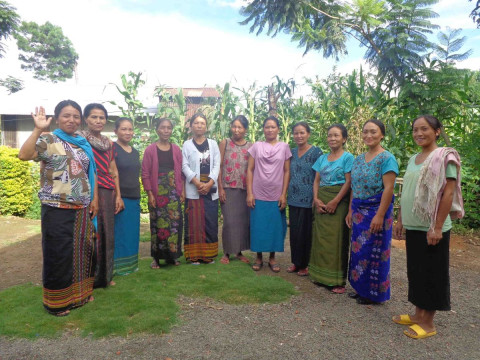 100%
funded
Total loan: $2,600
Vanchoi Group
Motbung, MN, India / Agriculture
---
Vanchoi Group's loan finished fundraising,
but these similar borrowers just need a little more help to reach their goals!
---
A loan helped to buy five piglets to raise for profit and to pay for her children's education cost.
---
Vanchoi Group's story
"I once raised the biggest pig in my village. Many people wanted to buy that pig, and that was my most proud moment being in this business," narrates Chonghoineng, a 40-year-old woman. She is the featured borrower of the group "Vanchoi". She is pictured with her hand raised among the group members. She lives with her husband and children in their village.

Other than raising pigs for profit, Chonghoineng sells rice and eatables like local chips prepared by her for income generation. Her husband is a daily labourer, and their income can hardly meet their needs, as their family expenses are high.

Chonghoineng raises her pigs in the backyard of their home compound. She normally raises one or two pigs at a time. She now aspires to raise more pigs in the hope to make more profit. With the Kiva loan, she will buy five piglets to raise at her pig sty.

Her favorite part of raising pigs is to feed the hungry pigs on time so that they grow healthy and big. "The uncertainty about this business is that when the pig suddenly dies, your investment is lost."

She will sell the pigs for profit after one year. The profit will help her family to pay for the children's education cost and meet their required basic necessities. She also aspires to buy a solar home lighting system in the near future if her present business becomes successful. She is very happy to get the loan.

The rest of the group members will use the loan to help their businesses. They are very excited to get the loan. They all strive for financial freedom.