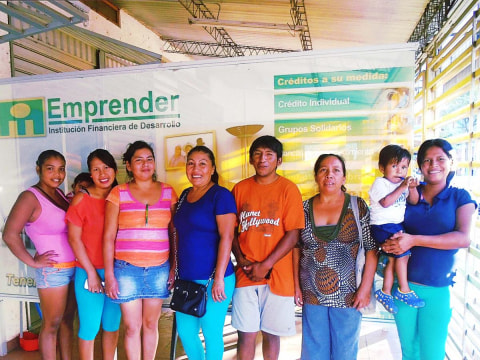 100%
funded
Total loan: $3,725
Las Estrellas Group
Santa Cruz de la Sierra, Santa Cruz, Bolivia / Food
---
Las Estrellas Group's loan finished fundraising,
but these similar borrowers just need a little more help to reach their goals!
---
A loan helped to buy a freezer in order to sell ice and ice cream in order to pay for school for her children.
---
Las Estrellas Group's story
Erika is a 37-year-old woman who lives with her partner. She has 2 children ages 8 and 14, and her business is selling ice and ice cream. She is a good mother, enterprising, dedicated, friendly, strong, responsible and hardworking. Her business is lcoated in the town 'Puerto Pailas' which is 44 kilometers from the city. The area is characterized by its variety of traditional foods such as duck meat, chicken locro, spicy chicken, fish and pork baked; well baked as cuñapé, corn empanadas, corn bread and the inevitable typical drinks of the region such as corn chicha, mocochinchi, lemonade and tamarind. In a warm weather climate, the area is subtropical and humid with a temperature between 22 to 30 degrees Celsius during the day.

Erika is of dark complexion, brown eyes, long black hair tied back, short, medium physique. Her first language is Guaraní spoken in the home and she speaks Spanish for business. In the photo she is the third from the right, wearing the blouse with horizontal stripes. She lives with her partner who works in agriculture and their children study in school. The live in a room built of wood with tin roof and floor that has well water extracted by pump and energy electric, there is no sewerage. She need to pay school fees for their children, so she is seeking a loan with her communal bank. Their respective business are making hats, ceramic crafts, food vending, carpentry, selling vegetables and selling breakfast. Her business is selling ice and ice cream, which she does during the day in an outdoor permanent stand, 7 days a week. "I work all week because customers buy every day and that way I don't miss out on any sales ... " she says. The advantage of her business is that sales do not stop throughout the week, the downside is the lack of capital to purchase a freezer. Her dream is to expand her business, she want to buy a freezer to store ice and ice creams to improve her sales and have constant merchandise. This is the first sequence of loans to the institution in 20 years that she has had this business. It is for these reasons that Erika applies for a loan to buy a freezer to sell ice and ice creams and with the proceeds pay for school for her children.