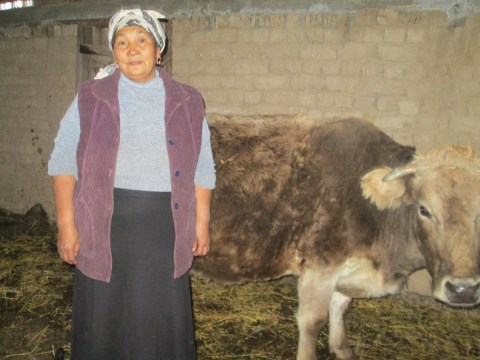 100%
funded
Total loan: $575
Toktobubu
Kaiyrma village, Chui region, Chuy Province, Kyrgyzstan / Agriculture
---
Toktobubu's loan finished fundraising,
but these similar borrowers just need a little more help to reach their goals!
---
A loan helped to purchase cattle feed.
---
Toktobubu's story
Toktobubu successfully paid back her previous loan. She is grateful to Kiva and to all those who helped her finance her loan. She currently has 2 dairy cows, 10 sheep and 10 horses on her farm. On a 4.0 hectare plot of land she grows wheat, barley and clover. With the income from her business, Toktobubu managed to buy a necessity for her farm - a cargo truck. She was also able to start building a house. Her business brings in an average monthly income of 15,000 som (KGS). For the further development of her business, she turned to Microfinance Bank "Bai Tushum." She is requesting a loan for 35,000 som (KGS) to buy cattle feed, which will allow her to preserve the size of her herd and feed her livestock over the winter. She wants to use the earnings from this business to open her own seamstress shop.