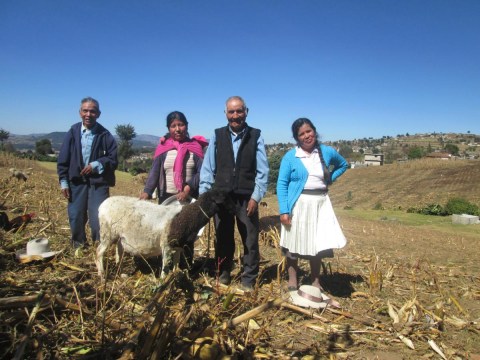 100%
funded
Total loan: $6,400
Union Y Fuerza Group
Tres Estrellas, San Felipe del Progreso, Méx., Mexico / Retail
---
Union Y Fuerza Group's loan finished fundraising,
but these similar borrowers just need a little more help to reach their goals!
---
A loan helped to buy bread, eggs, milk, sugar, dairy products, detergents, and other products.
---
Union Y Fuerza Group's story
The group "Unión y Fuerza" (Unity and Strength) is found in a Mazahua community filled with colors and many traditions. The members are pleased to belong to a place where the residents help one another.

Doña Alicia is a cheerful and hardworking woman who gets along well with the people around her. She is 31 years old and in a common-law relationship with Sr. Ernesto, who works by building houses. Together they have formed their family that includes three children, two of whom are studying in preschool. The oldest child is in elementary school.

Seven years ago, Alicia opened a small grocery store. She came up with the idea to have a business because she wanted to have some way of helping with the household expenses. Since she lives near one of the busiest streets in her community, she thought it would be an extra benefit to have this type of business. In order to have enough capital, Alicia began selling corn on the cob and corn salad outside of her house from a small table that was covered by a tarp so that she could protect herself from the sun. Over a period of six months, she saved all of her earnings and used the money to buy sweets and soft drinks. Her earnings gradually increased and she formally started her grocery store.

The loans from VisionFund have allowed her to keep her business stocked with merchandise such as bread, eggs, milk, sugar, dairy products, detergents, and other products. Doña Alicia is very pleased and appreciative of the opportunity and the support she has received through the loans. Her dream is to grow her business even more so that she can continue contributing to the household expenses and, most importantly, to her children's educational expenses because she wants to see them become professionals.

The other members of the group, just like Doña Alicia, are extremely grateful to VisionFund and Kiva because of the loans they requested for their businesses over the course of several years. Don Severiano, Irma, and Don José will invest in the raising and fattening of sheep. This business helps them to improve their quality of life and that of their families.

*The photograph was taken near Don Severiano's house with his animals. Alicia is seen carrying her young child on her back with the help of her pink shawl.