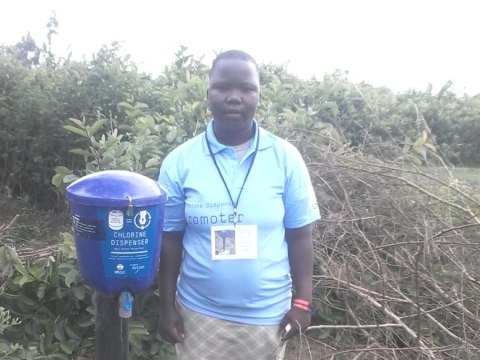 100%
funded
Total loan: $2,250
Carolyne's Group
NDHIWA, Homa Bay County, Kenya / Health
---
Carolyne's Group's loan finished fundraising,
but these similar borrowers just need a little more help to reach their goals!
---
A loan helped To improve health and productivity by increasing access to safe drinking water through chlorine dispensers.
---
Carolyne's Group's story
Carolyne lives in a home with mud walls, a dirt floor, and an iron roof in Ongeng village in Ndhiwa, Kenya with her family which includes 2 children. The community of Ongeng collects their drinking water from Kamenya Kwandiku pond because there is no piped water supply in this part of rural Kenya. This water is easily contaminated with bacteria that can cause diarrhea and other water-borne diseases, often making Ongeng's inhabitants sick and unable to work or attend school. A new chlorine dispenser offers a solution to the burden of sickness caused by unsafe drinking water. The dispenser is installed at the local water source, where users turn a valve to add chlorine to their jerricans and then collect water as usual. The chlorine disinfects the water and provides residual protection from recontamination. In Ongeng, 20 households will benefit from having access to the dispenser and safe water. Carolyne has volunteered to be the dispenser promoter, who is responsible for refilling the chlorine and encouraging the rest of the community to treat their water and keep themselves and their families healthy. There are 4 other volunteer promoters from the surrounding community namely Saline, Hellen, Jocinter, and Evans who are also part of this group loan. Ongeng community needs a loan to cover the costs of installing and maintaining the dispenser. Carolyne believes that the dispenser will help them treat water leading to a reduction of water-borne diseases. The Kiva loan will be repaid by Evidence Action (www.evidenceaction.org) on behalf of the community through the sale of carbon credits. Using the chlorine dispenser generates carbon credits by avoiding the need to boil water to make it safe to drink. Revenues from the sale of carbon credits to organizations and individuals wanting to reduce world carbon footprints will be used to repay Kiva lenders and also to make sure that Carolyne's community can have access to safe water now and in the future.