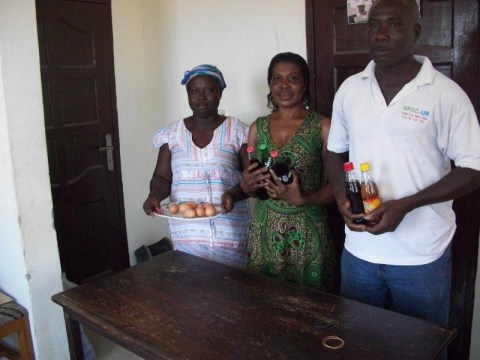 expired
Total loan: $1,200
Victory Group
Chorkor, Greater Accra Region, Ghana / Food
---
Victory Group's loan finished fundraising,
but these similar borrowers just need a little more help to reach their goals!
---
A loan helped To buy 20 boxes of different soft drinks.
---
Victory Group's story
The Victory group is composed of three members. They have an average age of 36 years old. They all live in Chorkor, a district of Accra. They know each other through a local "susu" [neighborhood savings groups] and through their work. The group members work as vendors selling soft drinks and egg products. With the goal of bolstering their working capital, the group members have decided to join ID-Ghana and are on their 14th loan cycle. Benjamin (the man standing to the right in the photo) is a well-known soft drink vendor. He plans to use this loan to buy 20 boxes of different soft drinks. He stocks up in Accra and then resells the drinks for cash in Chorkor to a customer base composed of men and women. With this loan, Benjamin plans to earn a good monthly revenue, which will be used to provide for some minor needs of his, with the rest being invested in his business. Benjamin is really counting on this partnership with ID-Ghana in achieving his goal of expanding his business.