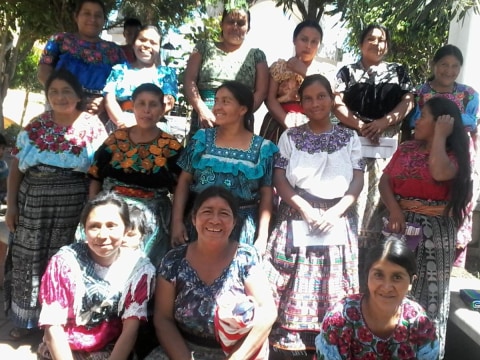 100%
funded
Total loan: $5,550
Las Mariposas Panyebar Group
San Juan la Laguna, Sololá, Sololá Department, Guatemala / Agriculture
---
Las Mariposas Panyebar Group's loan finished fundraising, but these other borrowers need your support
---
A loan helped buy a bull and feed for him, a dairy cow and the bees she is raising.
---
Las Mariposas Panyebar Group's story
In the rural community of San Juan La Laguna on the shores of Lake Atitlan in Guatemala, a group of 14 hardworking women have formed the Friendship Bridge Trust Bank "Las Mariposas Panyebar," meaning "The Butterflies of Panyebar." The Trust Bank is beginning a new loan cycle through Kiva partner Friendship Bridge. It will be their first cycle with Kiva. The ladies share a common goal of improving their quality of life and are committed to seeing their children enjoy a successful future, which includes education. Francisca is the 35-year-old secretary of the Trust Bank. She is married to a farmer and has four children who range in age from nine to 15. Francisca has an animal husbandry business and is also a beekeeper. She is requesting a loan that she plans to invest in a bull as well as feed for him and for a dairy cow. She also needs to buy food for the bees. Francisca is very happy and proud to be involved in Friendship Bridge. She feels empowered with her loan because she is certain that she can make a big difference in the lives of her children, especially being able to meet their educational needs. Her oldest son is very interested in beekeeping and honey production. Each of the women of the "Las Mariposas Panyebar" Trust Bank look forward to their monthly meetings with a Friendship Bridge loan officer. Besides conducting business on their loans, the ladies are eager to learn how to manage them and so they can acquire timely information about effective business practices, health, hygiene and nutrition, as well as women's rights and leadership. Friendship Bridge calls this combination of loans and education "Microcredit Plus" and it is very effective! Francisca as the other women in the group thank Friendship Bridge and Kiva lenders for enabling them to receive loans and education. They want to assure all that the investment is in good hands and that they will pay the loan back in full and on time. Kiva lenders are valuable partners in this effort!