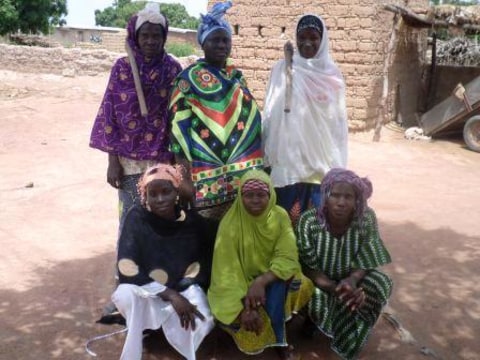 100%
funded
Total loan: $625
Diantoyerela Ii Group
Kadiana, Sikasso Region, Mali / Agriculture
---
Diantoyerela Ii Group's loan finished fundraising,
but these similar borrowers just need a little more help to reach their goals!
---
A loan helped to purchase supplies, seeds, and labor for their agriculture business.
---
Diantoyerela Ii Group's story
The members of the Diantoyerela II group are married women with an average age of 25 years and an average of 4 children each. They all live in polygamous families in Kadiana City, in the Kadiana community of the Kolondieba district, one of the districts in the third administrative region of Mali. The women are partnering with the microfinance organization Soro Yiriwaso in order to better run their farming business during the rainy season. They are on their second loan with the organization, after having fully repaid their previous loan. Djenebou, the first person pictured crouching on the right in the photo, is in the business of rice and ground nuts. With her loan, she plans to purchase supplies, seeds, and pay for labor to farm 2 hectares. Djenebou sells her crops in Kadiana after the harvest to a customer base made up of both men and womn. She plans to earn an income of 100,000 francs CFA, which will allow her to repay her loan and also to help her husband with the daily expenses.