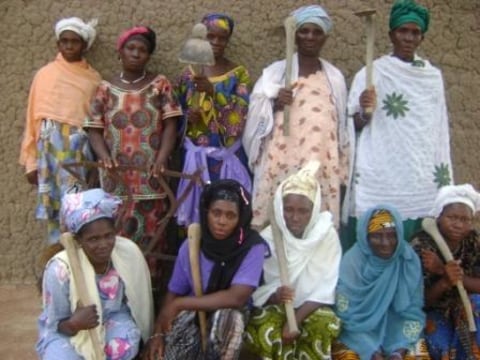 100%
funded
Total loan: $1,525
Benkadi 1 Group
Bougoura, Région de Mopti, Mali / Agriculture
---
Benkadi 1 Group's loan finished fundraising,
but these similar borrowers just need a little more help to reach their goals!
---
A loan helped to pay for plowing, farm inputs, sundry equipment, and seeds.
---
Benkadi 1 Group's story
The ten members of "Benkadi 1" are married women averaging 45 years of age and six children each, all living in traditional families in BOUGOURA, a village in Commune de YANGASSO, Cercle de SAN (4th administrative region of the Republic of Mali). The women are collaborating with the microfinance institution Soro Yiriwaso to carry out their farm work during the rainy season. They are on their fifth loan with the institution. The past loans were indeed paid back. The crop grown is peanuts, as is the case with DJENEBA, who is the standing first from the left and wearing a pink scarf in the photo. With her loan, she intends to purchase farm inputs, seeds, and sundry equipment and to pay for plowing to maintain 0.5 hectare. After the harvest, the produce will be sold to men and women customers in villages and in Kimparana. She plans on making a profit of 45,000 francs CFA at the end of the season. This profit will enable her to pay back her loan and also to help her husband to cover day-to-day expenses.