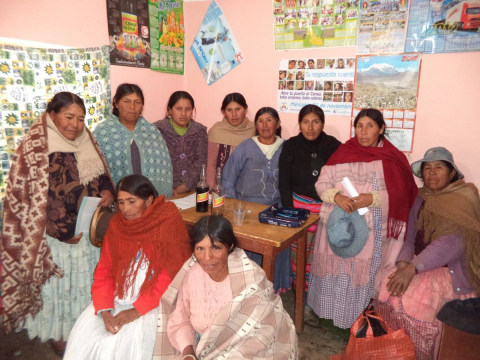 100%
funded
Total loan: $5,500
Khantati Group
El Alto, La Paz Department, Bolivia / Arts
---
Khantati Group's loan finished fundraising, but these other borrowers need your support
---
A loan helped to buy wool.
---
Khantati Group's story
The communal bank "Khantati" will start its third cycle with Pro Mujer, as a part of the Patacamaya regional office. It is made up of ten members and is led by a directing board in which Susana is the treasurer. The businesses that the members have vary. Among them are: milk production, potato and freeze-dried potato production, cheese sales, artisan goods with fabric, and a neighborhood store. The loan that they will take out will benefit the group of micro-business owners, of which Susana is a member. She says that she joined Pro Mujer three cycles ago, joining by invitation of an institution promoter who came to visit her at home. Currently, she has a fabric business and sells gloves and scarves. She says that she learned this business from her parents and later decided to open her own business location. The loan she will get now is to renew tools (buy wool) which she will get from fairs in the city of El Alto. After making them, she will sell them in from her local. This work allows her to have resources to support her home as much as possible, since she is married and has four children. When asked what she likes about Pro Mujer, she says that she likes the health services and the life insurance.