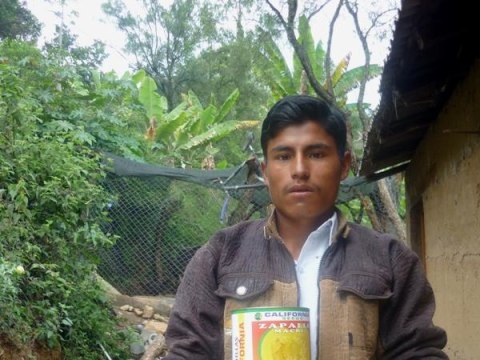 100%
funded
Total loan: $1,200
Jhosep
Huancavelica, Huancavelica, Peru / Agriculture
---
Jhosep's loan finished fundraising,
but these similar borrowers just need a little more help to reach their goals!
---
A loan helped to buy pumpkin seeds and fertilizer.
---
Jhosep's story
Jhosep, 25, is a young, hardworking, independent father. He lives in company of his wife, Sonia, and his daughter, Irma, who he cares for in the house he bought two years ago. He learned to work in the fields and to love the land and to earn his living from it since he was a boy. Because of this, he thanks God very early in the morning every day for always being by his side and for his fertile land. He has six years' experience in this business. He learned to care for his crops there; his specialty is good quality pumpkins because he nourishes them with organic, natural fertilizers. He currently has four hectares planted and wants to continue planting more because he's expecting a good season this year. "Agriculture is a bit difficult; one must wait several months to earn profits which is why I've gone into the business of buying and selling cattle, especially bulls of all qualities and sizes," he affirms. Now, he hopes to increase his cattle a bit and increase his small farm animal husbandry because he earns daily profits from his animal sales. Jhosep will use the money to buy several cans of pumpkin seeds as well as natural fertilizer to spread among his crops.