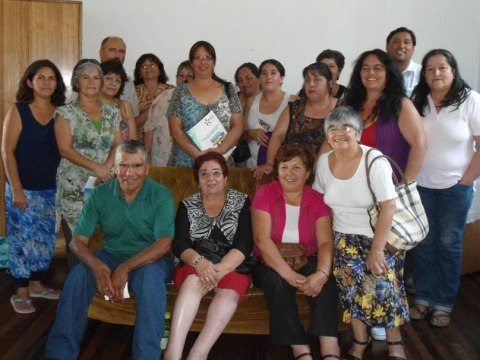 100%
funded
Total loan: $5,400
Santa Barbara De Casablanca Group
Casablanca, Valparaiso Region, Chile / Services
---
Santa Barbara De Casablanca Group's loan finished fundraising,
but these similar borrowers just need a little more help to reach their goals!
---
A loan helped to buy tablecloths and a machine for performing skin massages.
---
Santa Barbara De Casablanca Group's story
This community bank is called 'Santa Bárbara de Casablanca' and it has 19 members who are all entrepreneurs and work in different fields including: selling packaging items, preparing fast food, running a bakery business, providing a taxi service, knitting handicrafts, sewing, etc. All of the bank's members live in the town of Casablanca, in Valparaíso province. Tomasa is the community bank's delegate. In the photo, she is standing in the second row behind the sofa. She is the third person from the left. She has dark-brown, shoulder-length, wavy hair and bangs (fringe). She is wearing a patterned, sleeveless top. In the photo you can just make out her arm and part of her top. Tomasa is in the cosmetology business. She provides a skin cleansing service and sells beauty creams. She says that she completed a cosmetology course and has been in this line of work for 30 years now. Tomasa buys the products that she needs for her services in a specialist beauty product store that serves professionals, in the city of Viña del Mar. She tells us that she also provides cocktail bar-tending services. She completed a catering course and she prepares and sells her products from home. She also hires out chairs, tables, tablecloths, dinner services, etc. Tomasa will use her loan to buy tablecloths and a machine for carrying out skin massages. Tomasa lives together with her husband and a 22-year-old son who is studying for a college degree in social work. She is very happy and grateful for the opportunity provided by Fondo Esperanza as she considers it to be a tremendous support for her business. Regarding her community bank, she says that they are very united and organized. Casablanca is a town in Valparaíso province, which is located in the region of the same name. This area has a Mediterranean-type climate with summers of prolonged drought and short, but heavy, winter rains. The name 'Casablanca' comes from the 16th Century when there was a house with white walls on a hill to the side of one of the area's oldest roads called 'Camino Real de Carretas'. The town's economy is currently based on services, farming, transport, agribusiness, tourism and commerce.