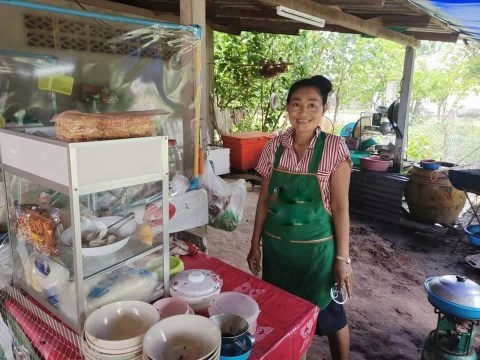 100%
funded
Total loan: $925
Tuanjai
Krasang, Buriram, จ.บุรีรัมย์, Thailand / Food
---
Tuanjai's loan finished fundraising,
but these similar borrowers just need a little more help to reach their goals!
---
A loan helped to buy noodles, shelves, beverages, tables, chairs and ingredients for making Thai noodles.
---
Tuanjai's story
Tuanjai is a single mother who lives with her son in a Khmer community of Buriram Province, the northeastern region of Thailand. Her family makes a living by running a Thai noodle restaurant.

Tuanjai has been running a Thai noodle restaurant to earn income for many years. This job is capable of generating sufficient income for spending in her family. During this period, she sought a loan in order to expand her business and renovate the restaurant. Therefore, she applied for a Kiva loan to purchase noodles, shelves, beverages, tables, chairs, and Thai noodles ingredients.

The loan will encourage Tuanjai to purchase sufficient materials to serve her customers and keep them satisfied as well as help the local entrepreneur to generate more income. Furthermore, she wishes to have everything ready to serve customers and dreams of seeing her family having a better life.