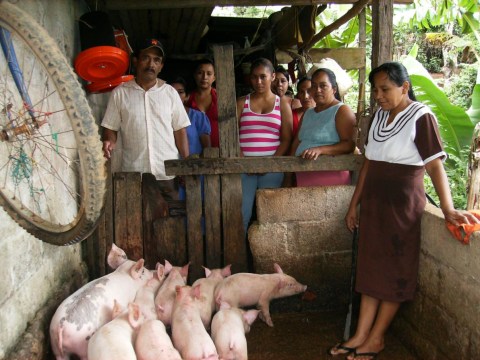 100%
funded
Total loan: $2,650
Reforma Group
COPAINALÁ, CHIAPAS, Chis., Mexico / Agriculture
---
Reforma Group's loan finished fundraising, but these other borrowers need your support
---
A loan helped Working capital.
---
Reforma Group's story
Sra. Maicela H. S., 43, lives in Reforma in the Mexican state of Chiapas. She is married to Sr. Santos A. H. with whom she has six children, one married and five living at home: Luis Antonio, 18; Maricela A. who is in her second year of college; Deiser, 14 who is in the third year of high school; Briseida Alejandra, 10; and little Santa Marideli, 1 1/2. Maricela has made a living raising and selling pigs for a year. She says that the business is going well. She used to operate a grocery business, too, but she decided to concentrate on raising pigs because the returns are better. Maricela's inspiration for starting the business was her family. She wanted to provide them with whatever they needed to get ahead in the world. She also wanted to help her husband with the family's day-to-day expenses. Maricela wants to user the earnings to buy more pigs, then raise and sell them. She also wants to save for her children's future and help them fulfill their dreams. The group is called "Reforma" because it is the name of the community where the members of the group live. Maricela joined the group after seeing advertisements posted for the group around the town. The idea intrigued her and she is now a member. The members of the group are: María Ruth Vázquez A.: operates a business selling clothes (and the group's representative). María Delma Sánchez E.: operates a business selling chickens. María Anabel Eleria Sánchez: operates a business selling fruits and vegetables. Zenaida A. López: buys and sells chickens. Maricela Hernández Sánchez: buys, raises and sells pigs. Aida O. A.: owns a store where she sells pants, blouses, shirts, etc. Manuel A. López: wants to buy milk for a cheese-making business. María Teresa Vázquez González: resells cosmetics bought from catalogs. Blanca Madeyne Gomes G.: operates a tailoring business.
Translated from Spanish by Jere Wiseman, Kiva Volunteer