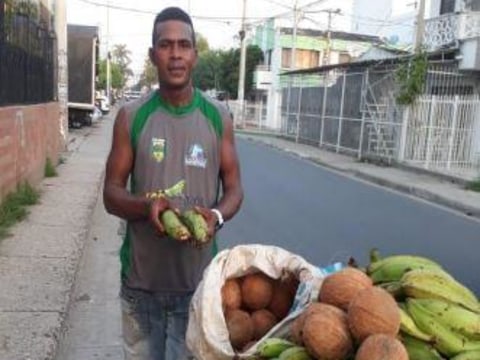 100%
funded
Total loan: $775
Deiver
Cartagena de Indias, Bolivar, Colombia / Food
---
Deiver's loan finished fundraising,
but these similar borrowers just need a little more help to reach their goals!
---
A loan helped to invest in the purchase of cassava, yam, potato, and sacks of bananas.
---
Deiver's story
Deiver, age 40, is a micro-entrepreneur who lives in the city of Cartagena.

For 20 years, he has had a business selling bananas, tubers, and other vegetables. When he was an infant and very young, he accompanied his father to the Bazurto market where he had a space selling agricultural products. In time, Deiver solidified this and inherited from his father; with the passage of the years, he managed to acquire the experience and knowledge necessary to get the business ahead. His clients are neighbors in the sector, acquaintances, and passers-by. This commercial activity is what helps to provide for his family, and he is very well-known in the sector.

However, due to the worldwide Covid-19 pandemic, his work declined due to bio-security issues and his income dropped drastically. For this reason, he joined the program "Cartagena Responds" to request his first Kiva loan from the Fundación Santo Domingo in order to invest in the purchase of cassava, potato, and sacks of banana. Please support his loan for his business.