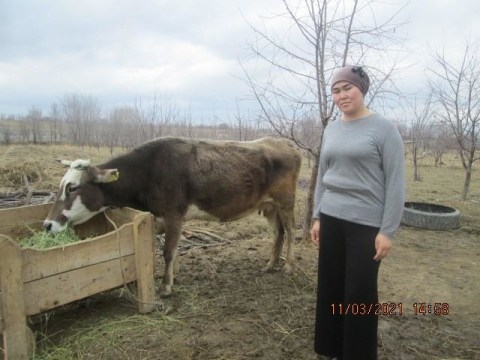 100%
funded
Total loan: $2,375
Zhypara
Kara-Buura district, Talas region, Talas Region, Kyrgyzstan / Agriculture
---
Zhypara's loan finished fundraising,
but these similar borrowers just need a little more help to reach their goals!
---
A loan helped to buy dairy cows to increase her milk sales to a local factory.
---
Zhypara's story
Zhypara is 32 years old and married with 3 children. She has a secondary-level education. She has been raising livestock and growing crops since 2010, and this is her family's primary source of income. Thanks to her hard work, she now has five cows.

Zhypara has a contract to supply a local factory with organic milk for use in dairy products. This allows her to constantly reinvest in her farming business. When she found out that Bai Tushum Bank offer a product called a 'Value Added Chain', which would allow her to take out a loan against future milk sales, Zhypara decided to apply for a loan of 200,000 som. She will use the money to buy dairy cows to increase her future milk sales. The milk payments from the factory will go directly into her bank account, and the loan repayments will be automatically deducted. The profit from the loan will help Zhypara to further develop her business.