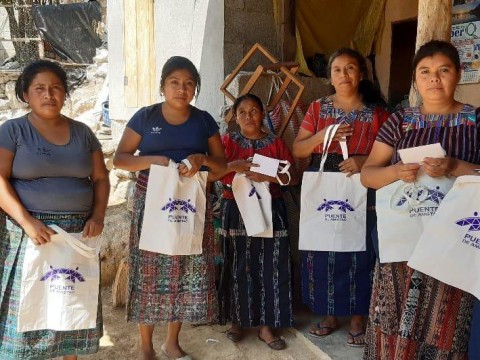 100%
funded
Total loan: $3,525
Amigas Barrio 2 Group
San Marcos La Laguna, Sololá, Sololá Department, Guatemala / Arts
---
Amigas Barrio 2 Group's loan finished fundraising,
but these similar borrowers just need a little more help to reach their goals!
---
A loan helped to buy many colors of high-quality yarn.
---
Amigas Barrio 2 Group's story
Pascuala, is a 26-year-old single woman and has a 6-year-old son who attends kindergarten. She was educated until the sixth grade. To earn income, Pascuala embroiders traditional colorful blouses called "huipiles." She has been doing this for 15 years and has three employees. Pascuala and her workers are very talented embroiderers and capable of sewing all kinds of intricate and colorful stitches. At the moment, she has several orders and takes her second loan from Kiva to buy many colors of high-quality yarn.

Pascuala is a member of the Puente de Amistad Community Bank "Amigas Barrio 2" along with six other Maya Kaqchiquel women. The women live in a cool area of ​​the department / state of Sololá. They look forward to their monthly meetings where they provide support, make loan payments, and participate in educational training sessions, part of the "Microcredito Plus" loan, education and health services program. Session topics are relevant to their lives and are drawn from four areas: business, health, family, women. Business training helps them effectively manage their textile businesses.

Pascuala and her friends send their thanks to Kiva's lenders around the world! Thanks to each of you for your kindness and generosity!