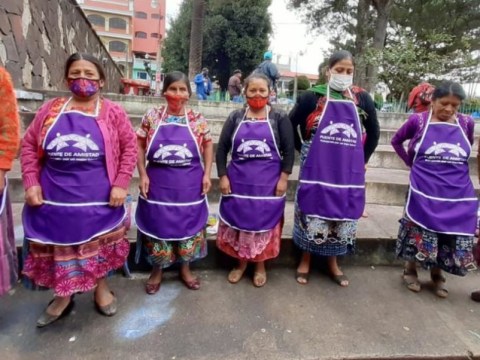 100%
funded
Total loan: $4,625
Mujeres De Chimenchu Group
Totonicapan, Totonicapan, Guatemala / Arts
---
Mujeres De Chimenchu Group's loan finished fundraising,
but these similar borrowers just need a little more help to reach their goals!
---
A loan helped to buy clay and tools to decorate her clay pots.
---
Mujeres De Chimenchu Group's story
Handmade ceramic pottery, sometimes painted with elaborate designs, are part of the artistic traditions in the department/state of Totonicapan. Maria is a talented 62-year-old artist. She is a married mother of 5 children (21–35) and proud grandmother of 12. She has used part of her income from selling her handmade pottery to send her children through elementary school. Maria sells her clay pots in the local market. The clay is sourced from nearby mountains. She is requesting her fourth Kiva loan to buy clay at the wholesale level and tools to create decor on the pots.

Maria has joined six other ladies to participate in the "Microcredit Plus" program (loans, education, health care) of Friendship Bridge. Their Trust Bank is called "Mujeres de Chimenchu." They look forward to their monthly meetings when they offer each other support, make loan payments, and participate in educational sessions. Topics are relevant to their lives and include information about business (planning, budgeting, investing), family matters (health, hygiene, nutrition), and women's issues (women's rights/roles, self-esteem, empowerment). The women learn to prioritize expenses and the dangers of over-indebtedness. Every two months, they have access to basic health care services like blood sugar and blood pressure checks, PAP smears, breast exams, and family planning consults.

Kiva investors, partnering with Friendship Bridge, are held in high esteem by Maria and her friends. Thank you to each of you!