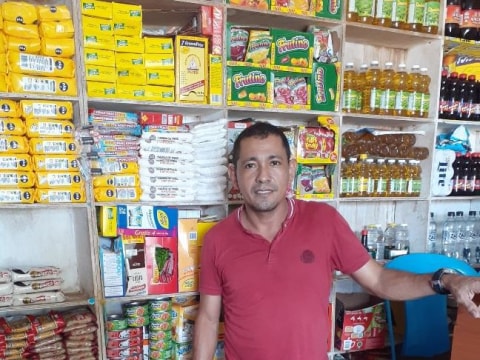 100%
funded
Total loan: $1,475
Alfredo
Cartagena de Indias, Bolivar, Colombia / Food
---
Alfredo's loan finished fundraising,
but these similar borrowers just need a little more help to reach their goals!
---
A loan helped to purchase food items: oil, rice, vegetables, meat, drinks, dairy products, fruit, etc.
---
Alfredo's story
Alfredo is a 43-year-old entrepreneur who lives Cartagena with his wife and two children. Alfred has gone through many difficulties in life. Some years back, he and his family were displaced and forced to move because of violence.

He had to move to the city of Cartagena where he had to start a new life. Fortunately, he is a strong entrepreneur with drive who opened his store with little inventory.

However, with time, he has been able to stock his store to meet the needs of his customers. His store is located in a very popular part of town, and his future goal is to own his own space since he currently renting. He also hopes to open another store location.

The business has been very profitable for this small businessman, but due to the pandemic, his income was impacted. He needs to strengthen his business plan since the economy is starting up once again.

For this reason, he applying for a loan, which will be his first CrediKiva with Fundación Santo Domingo. He will invest his resources in the purchase of: oil, rice, vegetables, meat, drinks, dairy products, fruit, etc.

His business goal is to strengthen his working capital and increase his sales. Support Alfredo with this business loan; he will be a success.