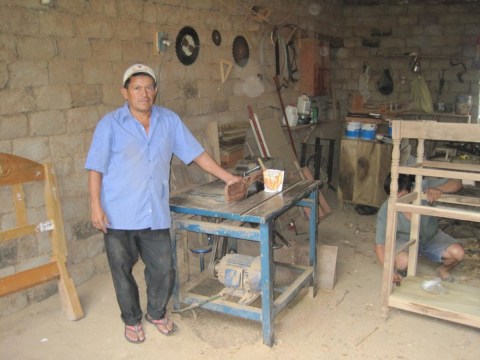 100%
funded
Total loan: $700
Walter Antolin
La Florida - San Miguel - Cajamarca, Cajamarca, Peru / Manufacturing
---
Walter Antolin's loan finished fundraising,
but these similar borrowers just need a little more help to reach their goals!
---
A loan helped Buy a saw blade and wood to maintain his carpentry shop.
---
Walter Antolin's story
Walter is 50 years old and is the father of a family. He lives with his wife and two children in the district of La Florida, a district in the northern mountains of the country; it belongs to the San Miguel province of the Cajamarca region. It is located more than two hours from the city of Chiclayo, the capital of the Lambayeque region. He has worked for more than five years making furniture and doors for the home. To do his work, he relies on a workshop set up in his home. He does work based on orders and also makes furniture to sell at the various markets in the region. The business came to him from his family, and he has known how to manage it to pass it on to his own. As it is the only source of income that he counts on now, he tries to do his best to keep up the business. Walter wants to replace the blade of his cutting machine, since the one that he has now has lost power and doesn't do good work. He also wants to acquire more wood to fill some orders which are waiting to be filled. To carry out his plans, he has applied for the first time to Edpyme Alternative for a loan of 2000 PEN. Walter is a father who works untiringly for the well-being of his family. He wants to continue growing as a businessman to obtain better earnings and improve their quality of life. In addition, he wants to offer a good education to his children. In the neighborhood where he lives, his neighbors and clients admire him very much and consider him a responsible person.
Translated from Spanish by Pam McMurry, Kiva Volunteer