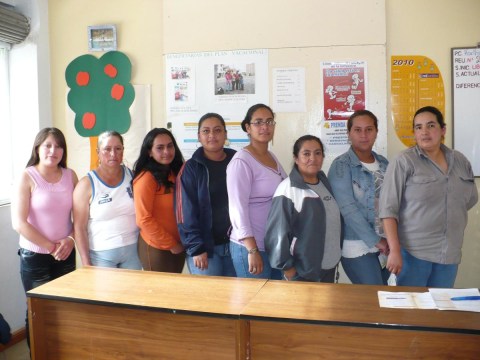 100%
funded
Total loan: $2,550
Medio Ejido (Cuenca) Group
Cuenca, Azuay, Ecuador / Clothing
---
Medio Ejido (Cuenca) Group's loan finished fundraising,
but these similar borrowers just need a little more help to reach their goals!
---
A loan helped To buy pants, shirts, blouses, perfumes, makeup, creams, earrings, necklaces, etc. and to buy flour, butter, sugar, salt, and yeast.
---
Medio Ejido (Cuenca) Group's story
The community bank Medio Ejido is made up of eight members, who are are seeking with their work to improve and grow their business, as well as with their families. It is located in the city of Cuenca, a large city divided into two parts by the river Tomebamba, which demarcates the historical center of the north, with its beautiful houses that go to the ravine and the modern south with residential neighborhoods, buildings, shopping centers, and wide avenues, which makes this city a place that attracts national and foreign tourists.
Banesa is a native of the province of Manabi. She migrated to this city and lives in the Medio Ejido region in a rented house with her partner, who works as an assistant on the interprovincial bus, and their two children, who are 8 and 5 years old, respectively. The children are in elementary school at a city establishment. She shares her time between catalog sales of clothing, perfumes, costume jewelry and more, for one and a half years, and the household chores. She also prepares food for special dates upon request, which she has been doing for six years.
This is her first loan, and with the money she will buy pants, shirts, blouses, perfumes, creams, makeup, earrings, necklaces, bracelets, and more for her discerning customers. Her goal is to return to her native land and buy a plot of land and build her own house.
María Gabriela C. is 24 years old, and married. The fruit of her marriage is her three children aged 6, 5, and 1. Her first two daughters study in a city school. Thanks to their joint work, they managed to build their own house where they have a bread and cake shop, thanks to her husband teaching her this work. She was motivated by her sister to become a member of the community bank Medio Ejido, and this is her first loan. With the money she will receive, she is going to stock up her business with flour, butter, yeast, sugar and other basic ingredients for the preparation of bread and cakes. Her dream is to get ahead with her husband and enlarge their business in order to give work to other people in the community.

Translated from Spanish by Amy McGinty, Kiva Volunteer