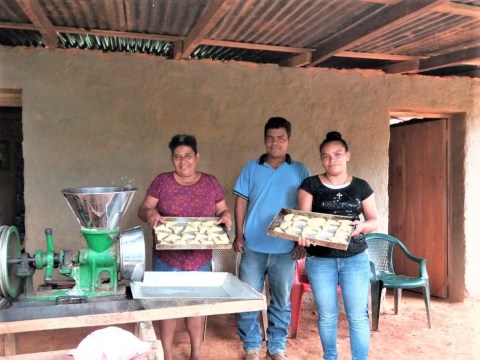 100%
funded
Total loan: $775
Las Minas De Babilonia Group
SAN JUAN RIO COCO, Madriz, Nicaragua / Food
---
Las Minas De Babilonia Group's loan finished fundraising,
but these similar borrowers just need a little more help to reach their goals!
---
A loan helped to buy flour, yeast, sugar, etc for making bread.
---
Las Minas De Babilonia Group's story
Maritza is 51 years old. She is married and the mother of eight children. She has enjoyed working since she was young.
In the coffee harvesting season, she always helps her husband with the manual labour and is paid for her work. This is how she was able to save up and open a small store. She also has income from making and selling bread.
She was able to learn with a group of neighbours who organized to take advantage of a social project where they could learn this skill. The bread is well liked by people in her community, and they bought enough bread that all of it was sold there.
She was very motivated by this and so requested a loan from Fundenuse with Kiva funds to produce a greater quantity of bread, taking advantage of the season. She will also buy more products to strengthen her store.
She is part of the community group "Las minas de babilonia", together with Seylin who works making and selling bread, enchiladas and nacatamales, and David who sells coffee, basic grains and provides grinding services.