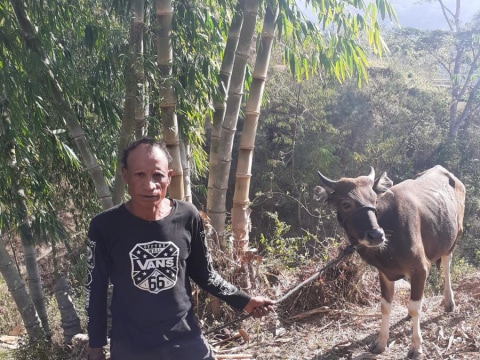 100%
funded
Total loan: $1,500
Mariano
Atsabe, Ermera, Timor-Leste / Agriculture
---
Mariano's loan finished fundraising,
but these similar borrowers just need a little more help to reach their goals!
---
A loan helped to buy more calves to raise on his farm to help support his family's income.
---
Mariano's story
Mariano is 41 years old, married, and has been blessed with eight children. He has been involved in business activities for 19 years now. He has a livestock business, which he first started with his own working capital. Raising and selling animals like cows, goats, and pigs is a very common activity in the zone, because it is an easy way to earn money for the family.

Mariano has been making a living from it since he first started, and it is been really helpful for his family's income as well. He would like a loan of USD 1,500 through KIF, to help him improve his business selling animals. He will use this loan to buy more calves to raise and sell back at the local market when they are older.

As a result of the investment, he hopes to run a bigger business in the future. He would like to thank all the lenders for this opportunity. It is a second loan; a first loan is already paid.