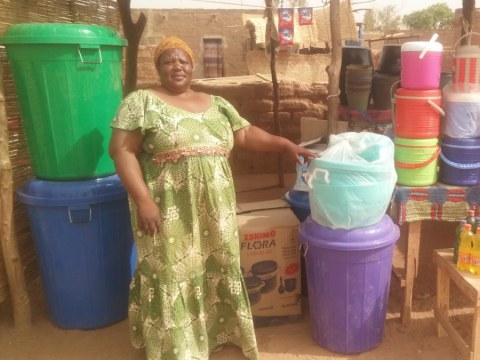 100%
funded
Total loan: $425
Sarata
Ouagadougou, Centre Region, Burkina Faso / Retail
---
Sarata's loan finished fundraising,
but these similar borrowers just need a little more help to reach their goals!
---
A loan helped to buy 60 cool boxes and 20 buckets and to save to look after her family.
---
Sarata's story
Sarata is a mother of four children; two of them in school. She is a trader and has been selling plastic products at a market in the capital for 15 years. She has experience in this area. She is on her third loan cycle with Yikri and makes her repayments without difficulty. She is requesting a loan to buy 60 cool boxes and 20 buckets to resell to her customers. She would like to use the profits to reinvest in her business and to save towards looking after her family. She encourages everyone to respect the social distancing measures to protect themselves from Covid-19.