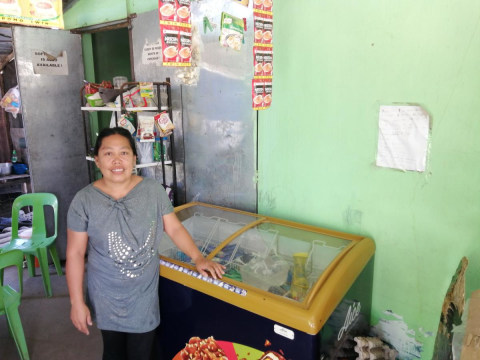 100%
funded
Total loan: $300
Loradel
Gerona, Tarlac, Central Luzon, Philippines / Retail
---
Loradel's loan finished fundraising,
but these similar borrowers just need a little more help to reach their goals!
---
A loan helped to buy canned goods, soy sauce, vinegar, noodles, biscuits, candies, and more ice cream to sell.
---
Loradel's story
A 44-year-old loving wife of Rodel, and responsible mother of three children from Gerona,Tarlac: this is Loradel. She manages her own sari-sari, or variety, store. She sells grocery items and many kinds of ice cream in her village. Her husband is working as a mason in construction in their community to provide for their other expenses like the electric bill.

She wanted to increase her merchandise but she does not have enough capital to restock her store. Loradel is requesting additional capital amounting to 15,000 PHP to buy merchandise such as canned goods, biscuits, soap and shampoo, and ice cream. Loradel is one of the good, paying clients of ASKI and she will keep extending good products and services to people.

Loradel hopes to complete the education of her children to help them have a better future someday.