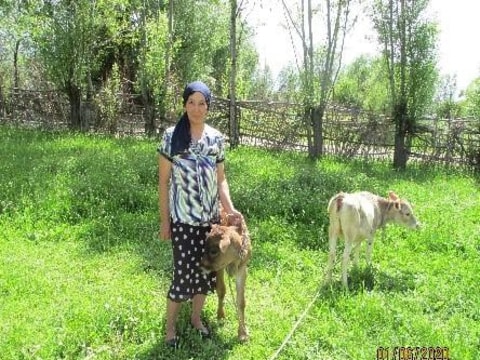 100%
funded
Total loan: $3,350
Chynara
Ak-Suu district, Issyk-Kul region, Issyk-Kul Region, Kyrgyzstan / Agriculture
---
Chynara's loan finished fundraising,
but these similar borrowers just need a little more help to reach their goals!
---
A loan helped to purchase cattle to increase her income from livestock breeding.
---
Chynara's story
Chynara is 47 years old, married and has three children. She has a high school education. By character, she is good and responsible. As a main source of income for her family, she has worked with livestock breeding and field crop cultivation for a period of 28 years. Thanks to her persistent work, her farm currently has 6 cows, 12 sheep, 2 horses and a plot of land of 0.88 hectares. Here she grows barley and potatoes.

With an aim to further develop her business, Chynara turned to the bank "Bai Tushum" for a loan in the amount of 250,000 som (KGS) to purchase livestock. She will increase her income from livestock breeding. She plans to invest the income from the loan in further expanding her farm.