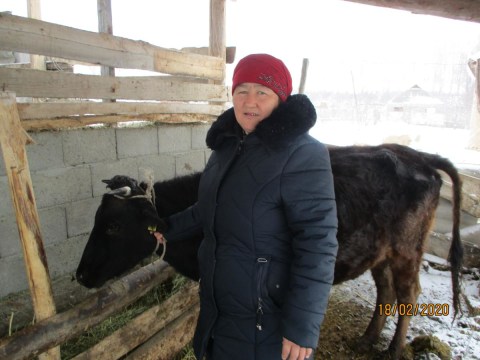 100%
funded
Total loan: $2,150
Shayirkul
Kichi-Oruktuu village, , Kyrgyzstan / Agriculture
---
Shayirkul's loan finished fundraising,
but these similar borrowers just need a little more help to reach their goals!
---
A loan helped to buy livestock, which will increase her livestock-rearing income.
---
Shayirkul's story
Shayirkul is 55 years old and married, with grown children. She has a higher education, teaches in a local school, and is kind and warmhearted by nature. She raises livestock and grows crops.to supplement her family's income. Thanks to Shayirkul's hard work and her husband's help, her farm presently consists of 11 cows, 25 sheep, five horses, and a 2.22-hectare plot of land on which she grows alfalfa.

In order to develop her business further, Shayirkul has turned to Bai Tushum Bank for a loan of 150,000 som (KGS), to buy livestock and thus increase her livestock-rearing income. Shayirkul is planning to put the income generated by the loan toward expanding the farm, while laying a portion of it aside to give her children a good future.