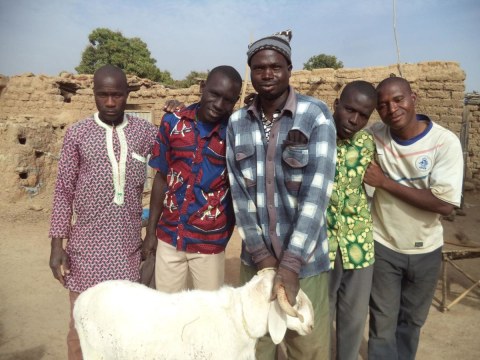 100%
funded
Total loan: $2,075
Benkadi Group
CIWARA, NY, Mali / Agriculture
---
Benkadi Group's loan finished fundraising, but these other borrowers need your support
---
A loan helped to buy animals to resell with the goal of supporting his schoolchildren.
---
Benkadi Group's story
Souleymane is the president of the Benkadi group. He is the one who is displaying the ram in the photo. He is 45 years old, married to two women, and the father of seven children. The youngest is 4 years old and the oldest is 14 years old; three are girls and four are boys. Among his children, five are enrolled in school.

He has run his business raising sheep and cattle for more than twelve years. He makes his purchases and sales at the fairs in his town. He likes his work very much; in eight months he was able to earn 300,000 francs CFA (XOF) in profits at the end of the lending cycle. He is illiterate but he concerned about the education of his children.

Souleymane wants to thank the microfinance institution, as the profit that he earns will allow him to take care of the family's expenses, above all their school supplies.