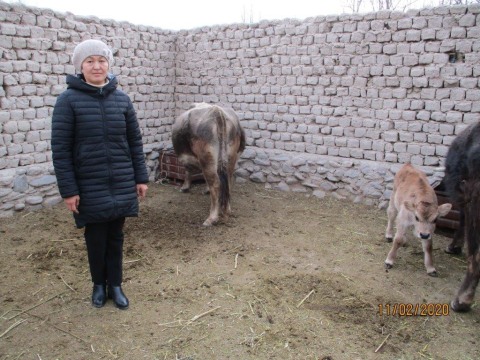 100%
funded
Total loan: $1,450
Nazira
Kum-Dobo village, Naryn region, Naryn Region, Kyrgyzstan / Agriculture
---
Nazira's loan finished fundraising, but these similar borrowers need your support
---
A loan helped to buy dairy cows to increase cattle headcount and sales of organic milk.
---
Nazira's story
Nazira, 43, is married and has a son and a daughter. She has university degree and is a very hard-working, goal-oriented and enterprising woman by nature. She knows the technology of running a farming business and is able to use resources appropriately.

As a main source of income for her family, Nazira has been engaged in animal husbandry since 2009. Thanks to Nazira's relentless work and responsible approach to business, she managed to bring her farm's livestock headcount up to seven cows, 10 sheep and seven horses. She also owns 0.4 hectares of irrigated land where she grows alfalfa.

To further develop her farming business, Nazira applied to Bai-Tushum Bank for a loan in the amount of 100,000 som (KGS) to buy diary cows, with the goal of increasing her income from organic milk sales and livestock breeding. Nazira plans to reinvest the profits from the loan into further development of her farm.