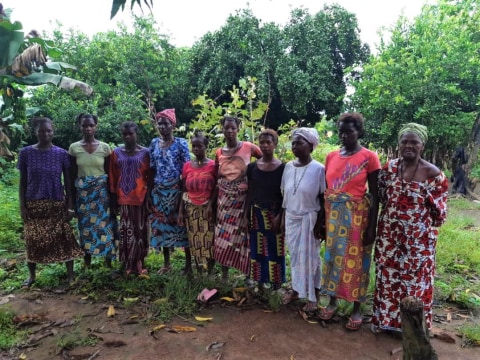 100%
funded
Total loan: $2,650
Zainab's Female Farmers Group
Makaray Village, , Sierra Leone / Agriculture
---
Zainab's Female Farmers Group's loan finished fundraising,
but these similar borrowers just need a little more help to reach their goals!
---
A loan helped to pay for improved seeds, organic inputs and tractor rental.
---
Zainab's Female Farmers Group's story
Zainab K (first on right) is the featured borrower of Zainab's Female Farmers group. She is a master farmer in Makaray village and has a family of seven.

Zainab is 49 years old and has spent her whole life farming rice. She has been through good times and bad, and has a passion for helping younger female farmers get their start. She is greatly respected in the village and often takes a leadership role in community initiatives.

Despite being a seasoned farmer Zainab, like many in her village, had her farming devastated during Sierra Leone's 2014-2016 ebola crisis. She refused to give up despite loosing a lifetime of work, and has organised a large group of other women who similarly had prospered before the crisis, lost everything but are now persevering.

All members are currently trapped in a cycle of subsistence and take extremely high-interest loans for poor quality inputs during planting time. A no-interest KIVA loan will enable this group of determined women to get back on their feet and back in business.