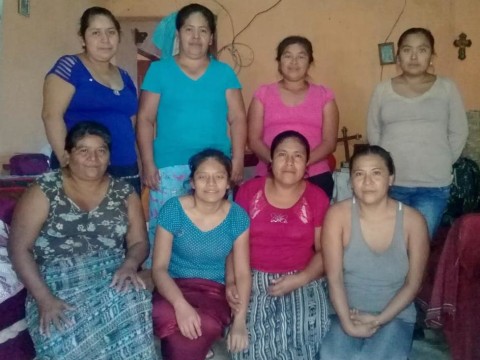 100%
funded
Total loan: $4,000
Las Marias De Quixaya Group
San Lucas Tolimán, Sololá, Sololá Department, Guatemala / Agriculture
---
Las Marias De Quixaya Group's loan finished fundraising,
but these similar borrowers just need a little more help to reach their goals!
---
A loan helped to buy additional chickens, fish and feed for them.
---
Las Marias De Quixaya Group's story
Reina, meaning "Queen", is a married 29-year-old mother of 2 daughters (ages 1 & 8). She is a member of the Friendship Bridge Trust Bank "Las Maria de Quixaya".

Reina was able to attend school for 9 years and is pleased that her oldest daughter attends the 1st grade. Her husband works as a therapist for people with special needs. Three years ago, Reina started an animal husbandry business and raises chickens and farms fish. She has 2 pools where the fish grow and an enclosure for the chickens. She is requesting her 5th Kiva loan to buy chickens, fish and feed for them.

The 7 other ladies in the Trust Bank have various businesses ranging from convenience stores, food carts to the sales of chicken meat by the pound, dairy products and traditional snacks. They look forward to their monthly meetings when they share stories, make loan payments and participate in educational training. This is part of the "Microcredit Plus" program of loans, education, health care and other "Plus" services. Topics for the educational sessions are relevant to their lives and give them much appreciated information about effective business practices, health, hygiene, nutrition and the use of medicinal plants. They also learn about how to value themselves (self esteem), empowerment and women's rights/roles. Every other month, the women have access to health care services.

In providing loan support, Kiva investors fill an essential role in the lives of Reina and her friends. Thank you!