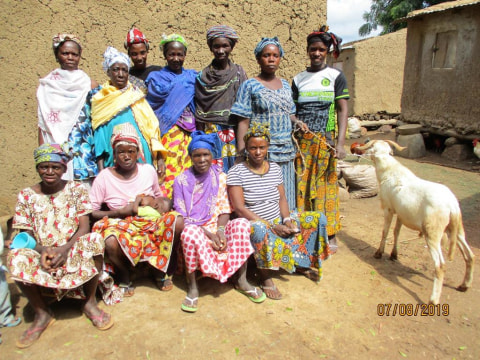 100%
funded
Total loan: $3,500
Fasokanou Group
Nonsombougou, , Mali / Agriculture
---
Fasokanou Group's loan finished fundraising,
but these similar borrowers just need a little more help to reach their goals!
---
A loan helped to buy rams to resell to make her business successful for her family.
---
Fasokanou Group's story
Boucoura is the one holding the ram by the rope. She is 49 years old, married and the mother of nine children; six have already attended school. Boucoura is a homemaker but has had a business raising sheep for 12 years. She contributes a lot to pay for the family's expenses, thanks to the loans from RMCR, and she also helps pay for her children's needs.

The last loans helped Boucoura a lot. She plans to invest her new loan in raising sheep to increase the size of her business. She buys her sheep at the weekly market in her community and resells them for a decent profit at the large animal market in her region, after raising them for six months. The main challenge of this business is the loss of some animals due to disease.

Boucoura hopes to have a long-lasting relationship with RMCR.