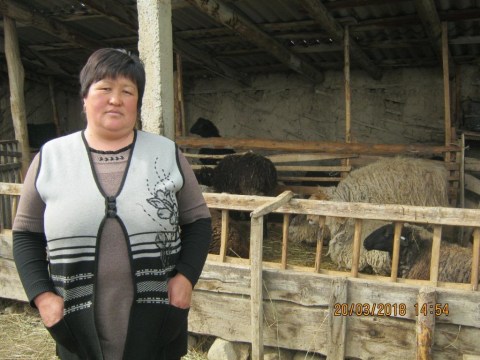 100%
funded
Total loan: $875
Raisa
Taldy-Suu village, Issyk-Kul region, Issyk-Kul Region, Kyrgyzstan / Agriculture
---
Raisa's loan finished fundraising,
but these similar borrowers just need a little more help to reach their goals!
---
A loan helped to pay for spring yield work to increase her income from a good harvest of organic potatoes.
---
Raisa's story
Raisa is 45 years old, married, and has 3 children. Raisa has a secondary education, and by nature she is responsible and ambitious. Raisa understands the technology of agriculture and is able to use means appropriately.

As the main source of income for her family, she has been working with livestock and agriculture for 26 years. Thanks to Raisa's hard work and the help of her husband on the farm, her farm today has 3 cows, 20 sheep, and a land share of 1.2 hectares where she grows potatoes.

In order to further develop her farm, Raisa applied to the bank "Bai-Tushum" for a loan in the amount of 60,000 som (KGS) to pay for the spring field work, with the goal of increasing her harvest of organic potatoes, and one part she will put toward buying a bull, with the goal of gaining an income from livestock breeding. Proceeds from the loan will help Raisa to expand her business through the purchase of a land plot, which will allow her to increase her income from growing agricultural products.