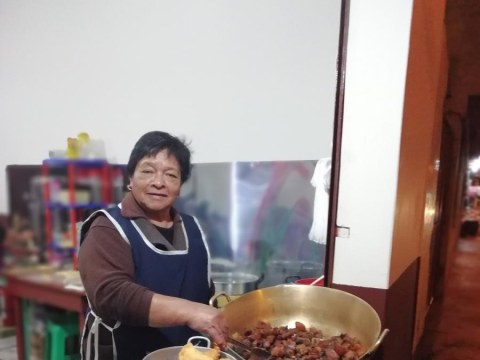 100%
funded
Total loan: $1,175
Rosa Emerita
Tulcán, Carchi Province, Ecuador / Food
---
Rosa Emerita's loan finished fundraising,
but these similar borrowers just need a little more help to reach their goals!
---
A loan helped her to buy a stove, tables, chairs in order to adapt her food place.
---
Rosa Emerita's story
Rosa is 71 years old. She lives with her husband in Tulcan, She is a very charismatic and kind person. She likes the job she does. She has a business she started 34 years ago. She is native of Loja, but because of her husband she moved to the northern part of Ecuador.
Rosa works preparing and selling fried foods, "motes" (corn snacks) with pork rind and coffee and "empanadas". She opens her business from 3 in the afternoon until approximately 8 in the evening, because she takes advantage of rendering service to her customers in their office business hours.
Rosa needs the loan to buy a stainless steel stove, tables, chairs, and to adapt her food place in order to improve the service she offers to the Tulcan citizens. With this, she will obtain more income to allow a better quality of life for her and her husband. Rosa is very grateful for your support.