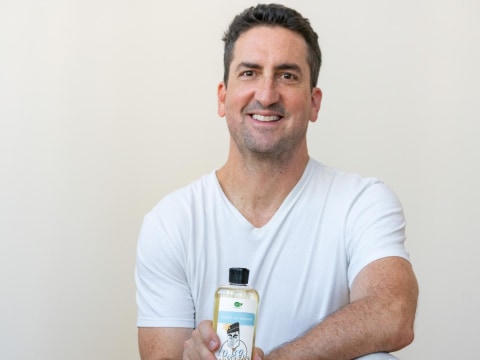 100%
funded
Total loan: $10,000
Brian
Rockville Centre, NY, United States / Arts
---
Brian's loan finished fundraising,
but these similar borrowers just need a little more help to reach their goals!
---
A loan helped design new labels for our current 8oz bottle, increase product inventory, and help finance a new round of online promotional videos for Facebook, Instagram, Twitter, etc.
---
Brian's story
I am an experienced entrepreneur and free spirit. Earlier in my career, I tried different professions, but was never comfortable until working for myself. I am the youngest of seven kids and grew up in Virginia Beach, Virginia, where my father was stationed in the Navy. My older siblings were my teachers, my heroes, and my role models. I followed them everywhere, mimicked how they told stories, played, made art, and worked. As a waiter, I paid my way through college and learned valuable skills, from how to remain calm under pressure, make decisions quickly, and, most importantly, to understand what motivates people. With a business degree from North Carolina State University, I began to interview with companies. Personable and outgoing, I began a career in sales, but struggled to fit into a corporate structure. Always the rebel, I knew that if I were going to be successful, I'd have to learn how to be an entrepreneur. At 28, I started my first business with two brothers. We invented a nutritional product for athletes (see: www.carbboom.com). Over the next eight years, I learned what it meant to be an entrepreneur. We eventually closed Carb-BOOM, but the life lessons were indelible and further fortified my passion as an entrepreneur. At 40, I moved to New York City and worked as a real estate agent. When slow, I started painting apartments. I began to envision an easy-to-use non-toxic product that could keep my equipment in peak performance and cut clean up time in half. Becoming a professional painter allowed me to test Pretty Boy on dozens of jobs until the formula was ready for market. My goal with Pretty Boy is to make it a household name and give back to the community through teaching entrepreneurs how to obtain success.