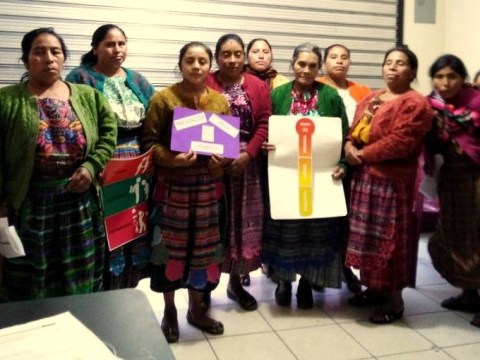 100%
funded
Total loan: $3,525
Mujeres De Pasaccap Group
San Cristobal Totonicapan , Totonicapán Department, Guatemala / Agriculture
---
Mujeres De Pasaccap Group's loan finished fundraising, but these similar borrowers need your support
---
A loan helped to buy pigs and feed for them.
---
Mujeres De Pasaccap Group's story
Eleven Maya K'iche'-speaking women of the Friendship Bridge Trust Bank, "Mujeres de Pasaccap," call the Guatemalan state/department Totonicapán home. The very rural region they live in supports growing corn, beans, oats, flour and barley, with several women having farms growing these crops. Other women have fruit orchards (apples, cherries and pomegranates) and raise animals (chickens, turkeys, cows, pigs and goats). They're requesting their fourth Kiva loan to increase their crops, livestock and income.

The treasurer of the group is 40-year-old Francisca, who's married and has a 24-year-old son. Because she was unable to attend school, she made sure her son had a complete education. She has a small farm raising goats and cattle. Her animal husbandry business provides income for household expenses. Francisca is requesting a loan to buy pigs and feed for them.

Monthly, Francisca participates in the "Microcredit Plus" program of loans, education and healthcare that's designed to empower low-income women of Guatemala to overcome poverty by learning good business management tools ─ budgeting, controlling expenses, saving and investing. They also learn about nutrition, hygiene and medicinal plants. The sessions help Francisca and 28,000 other women develop strong self-esteem.

Thank you Kiva investors for your support in the social and economic development of Francisca and her friends in "Mujeres de Pasaccap"!