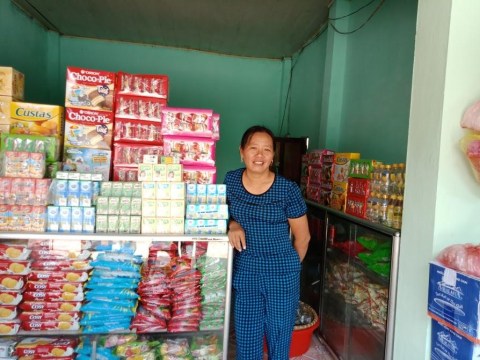 100%
funded
Total loan: $1,300
Thắng
Thanh Hoá, Thanh Hoa, Vietnam / Retail
---
Thắng's loan finished fundraising,
but these similar borrowers just need a little more help to reach their goals!
---
A loan helped to purchase more cake, sweet, sugar, milk to resell.
---
Thắng's story
Ms Thắng is 41 years old and she is single and lives with her mother. She has had a retail business selling dry food and general items for more than 10 years. Thắng lives in Cam Thuy district, a mountain town in Thanh Hoa province. Her family is a low-income household in village, moreover the market need is low in this region.

Thắng is a reputable person in the community. This is her first loan in Thanh Hoa microfinance institution.

The main hardship that Thắng faces is lack of capital. She is requesting a loan to purchase more cake, sweet, sugrr, milk to resell.

With her business profit, Thắng hopes for her family to be healthy and happy and for her business to do well.