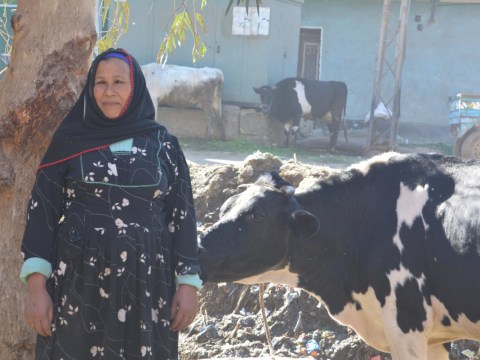 100%
funded
Total loan: $850
Mariam
Minia, Menia Governorate, Egypt / Agriculture
---
Mariam's loan finished fundraising, but these other borrowers need your support
---
A loan helped to buy a head of cattle.
---
Mariam's story
Mariam is 45, married, and has two daughters and two sons. One of her daughters is married and the other one has a mental disability.

She is illiterate and her husband is a farmer for landlords with an unstable income and a soldier in the police. She has a small cattle-fattening business and her business is very successful. She also rents a small piece of land to plant feed for her cattle and she makes and sells dairy products such as cheese and butter.

She requested a loan before and fully repaid it on the due dates. Her sales of dairy products increased and she sold the cattle for good prices.

She is requesting this loan to buy a head of cattle to increase her sales of dairy products so she can afford medication and treatment sessions for her disabled daughter.