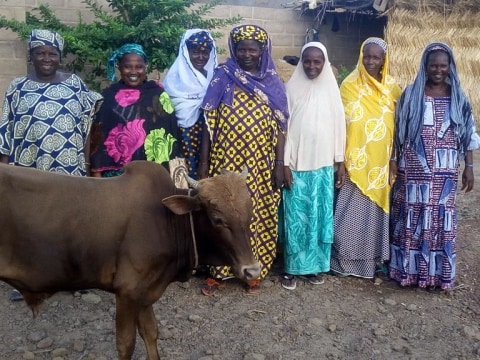 100%
funded
Total loan: $4,900
Waldal Kadal Es Kaoural Group
Kimparana, Ségou Region, Mali / Agriculture
---
Waldal Kadal Es Kaoural Group's loan finished fundraising,
but these similar borrowers just need a little more help to reach their goals!
---
A loan helped to buy livestock to resell to support her family.
---
Waldal Kadal Es Kaoural Group's story
This client, Agna, raises cattle and sheep. She is 46, married, and the mother of a 13-year-old child, who is not in school. Her husband help her a lot with her work raising livestock. She also has a small business selling goods. Agna is a very courageous woman. She likes her work very much. In the photo, she is the one at the left with a smile and holding the ox's tether. She is illiterate, yet she concerns herself with her child's future.

She earns a great deal from her business. Her supplies are gotten at the market in town. Her monthly earnings can reach as high as 40,000 francs CFA.

She turns to RMCR to have more money to expand her livestock business, which she has been operating for over fifteen years. The revenues generated allow her to help her husband in covering family expenses, such as the costs of food, healthcare, and clothing. In the days to come, Agna would like to purchase land and build in her town for her child.