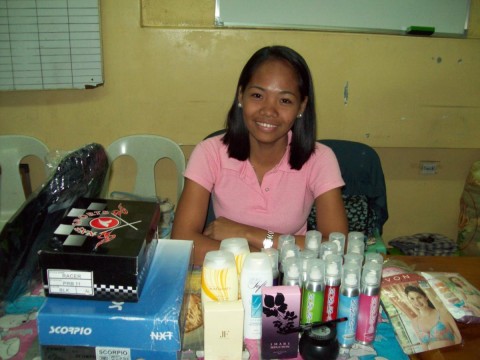 100%
funded
Total loan: $200
Juvelyn
Pasay City, NCR, Philippines / Retail
---
Juvelyn's loan finished fundraising,
but these similar borrowers just need a little more help to reach their goals!
---
A loan helped Increase her inventory of cosmetics and apparel.
---
Juvelyn's story
Juvelyn B. is one of the youngest entrepreneurs in Maricaban, Pasay City. She is 19 years old and is not married.
Two years ago, Juvelyn joined the bandwagon of women entrepreneurs engaged in direct selling of cosmetics and apparel from prominent direct-selling companies (such as Avon, Sundance, Natasha, and Marikina Shoe Exchange), which is a proven additional source of income for women in the Philippines. She also sells biscuits and cookies from factory surpluses. She currently earns more than 5,000.00 pesos a month. Her earnings provide for her personal needs.
Juvelyn also happens to be one of the newest members of the Center for Community Transformation (CCT) Credit Cooperative in Pasay City, having joined early this year. She hopes to receive from the cooperative the same social benefits her neighbors have been telling her about. She is now on her third loan cycle. She applied for a 9,000.00 peso loan as additional capital for her business. She dreams of having her own house and lot, and also a nice place to do business.
About CCT
The Center for Community Transformation (CCT) is an organized Christian response against poverty and social injustice. This is carried out through the fusion of social development initiatives and an evangelical mission in a uniquely Filipino context. It serves urban and rural poor communities throughout the Philippines, in pursuit of its desire to see changed lives, strong families, and transformed communities centered on the Lordship of Jesus Christ. CCT is a member of the Five Talents family.