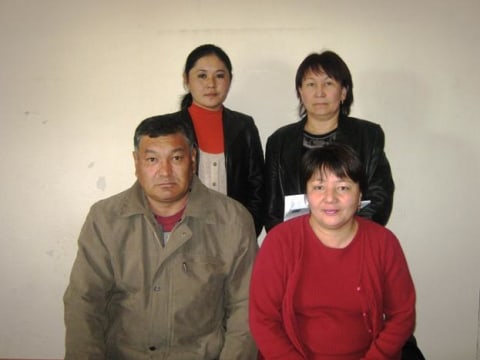 100%
funded
Total loan: $1,200
Guljan's Group
Tokmak, Chuy Province, Kyrgyzstan / Agriculture
---
Guljan's Group's loan finished fundraising,
but these similar borrowers just need a little more help to reach their goals!
---
A loan helped To fertilize and plough fallow land before winter comes.
---
Guljan's Group's story
The leader of this group, Guljan, is forty-six years old. She has one child and her husband works as a security guard in the Chui electric power plant. He gave Guljan freedom of choice to choose between working and staying at home and Guljan chose to work. Her relatives advised her to engage in farming. Guljan managed to obtain a three-hectare (7.5-acre) piece of land and made a start by investing $50 in buying clover seeds. So, for ten years she has been growing clover. As many people have cattle and need to prepare forage for winter, Guljan quickly started making profits. Now, she trades in clover at the market. Guljan's work has been a great asset to her family's budget as, together with her husband, she has been able to buy a house in Tokmok city. Recently, Guljan harvested the clover and now needs some funds for fertilizing and working the land before winter comes. Therefore, she has applied for this loan as she does not have much time to collect a sufficient amount of money. Guljan's partners are Gulzina, Dinara and Sabyrbek: Gulzina, 23, is married and her husband works at a tannery. Gulzina works on her land: she has one-hectare (2.5 acres) of land and grows hay. She has already harvested and stacked the hay and now is preparing to start selling it. Gulzina hopes to get this loan and invest it in working the land and fertilizing it. Dinara, 43, is divorced. She plans to get engaged in animal husbandry. Her colleagues have advised her to start this occupation as it brings good profits. Dinara has applied for this loan to purchase a calf. Now, she is planning to equip her house with the necessary facilities. Sabyrbek, 46, is a father of four children. His wife works at Kyrgyz Post as a logistics manager. Sabyrbek trades in cattle at "Murok" market and manages to earn $185 a month. Now, he needs to obtain this loan to invest it in purchasing cattle.
====================================== --- Where Did This Loan Come From? ---
This loan is brought to you by Mol Bulak Finance, a young and ambitious socially-focused MFI in Kyrgyzstan.
Mol Bulak Finance is strongly committed to the principles of sustainable development on the basis of the 3-Ps concept - People (building human capital and taking care of its customers and the society as well), Profit (to be profitable in order to grow further) and the Planet (taking care of the environment). It is also the only MFI in Kyrgyzstan that delivers its services to customers 365 days a year. To learn more about Mol Bulak and view a Video presentation about the organization, please visit: www.kiva.org/about/aboutPartner?id=135.
If you would like to support and learn more about Kyrgyzstan and micro-finance in Central Asia, please join our Lending Team - Supporters of Kyrgyzstan - at www.kiva.org/team/kyrgyzstan. Members will get special updates and news from the Kiva Fellows in Kyrgyzstan and from Mol Bulak staff.